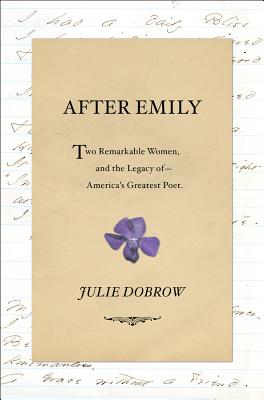 After Emily
Two Remarkable Women and the Legacy of America's Greatest Poet
Hardcover

* Individual store prices may vary.
Other Editions of This Title:
Digital Audiobook (10/29/2018)
Paperback (12/10/2019)
Description
The untold story of the extraordinary mother and daughter who brought Emily Dickinson's genius to light.
Despite Emily Dickinson's world renown, the story of the two women most responsible for her initial posthumous publication—Mabel Loomis Todd and her daughter, Millicent Todd Bingham—has remained in the shadows of the archives. A rich and compelling portrait of women who refused to be confined by the social mores of their era, After Emily explores Mabel and Millicent's complex bond, as well as the powerful literary legacy they shared.
Mabel's tangled relationships with the Dickinsons—including a thirteen-year extramarital relationship with Emily's brother, Austin—roiled the small town of Amherst, Massachusetts. After Emily's death, Mabel's connection to the family and reputation as an intelligent, artistic, and industrious woman in her own right led her to the enormous trove of poems Emily left behind. So began the herculean task of transcribing, editing, and promoting Emily's work, a task that would consume and complicate the lives of both Mabel and her daughter. As the popularity of the poems grew, legal issues arose between the Dickinson and Todd families, dredging up their scandals: the affair, the ownership of Emily's poetry, and the right to define the so-called "Belle of Amherst."
Utilizing hundreds of overlooked letters and diaries to weave together the stories of three unstoppable women, Julie Dobrow explores the intrigue of Emily Dickinson's literary beginnings. After Emily sheds light on the importance of the earliest editions of Emily's work—including the controversial editorial decisions made to introduce her singular genius to the world—and reveals the surprising impact Mabel and Millicent had on the poet we know today.
Praise For After Emily: Two Remarkable Women and the Legacy of America's Greatest Poet…
Mesmerizing... If you're interested in [Emily Dickinson], intellectual property issues, or juicy behind-the-scenes literary history, After Emily is your book.

— Michael Dirda - Washington Post

Long overdue... At the end of her book, Ms. Dobrow wonders what Mabel and Millicent would think of her good work. Doubtless, they'd be very pleased.
— Brenda Wineapple - Wall Street Journal

[Dobrow] serves as a kind of fiercely clever detective in stitching together Todd's remarkable influence and all the other little intrigues behind the marketing of Dickinson and her legacy.
— American Scholar

Dobrow's skillful account of Mabel's and Millicent's lives makes this page-turner a must-read for the poet's most ardent fans.
— Library Journal (starred review)

[Dobrow] recount[s], with sympathy and nuance, Todd's near obsession with editing Dickinson... [A] fresh, remarkable account.
— Kirkus (starred review)

Dobrow authoritatively traces the tortuous editorial and publication process that first brought Dickinson's work to public attention, and sensitively explores her subjects' interior lives... Impeccably researched...Dobrow's narrative gives a fascinating glimpse into the lives of two tireless advocates for Dickinson's work.
— Publishers Weekly

Julie Dobrow has grabbed a tiger by the tail in her skillful reanalysis of Mabel Loomis Todd's role in recognizing, preserving, publishing, and promoting Emily Dickinson's powerful poetry…Dobrow weaves the vitality of the personal into her scholarship, surprising and enlightening readers about one of America's greatest literary rescues.
— Polly Longsworth, author of Austin and Mabel

An honest, sometimes searing portrait of the two idiosyncratic women, mother and daughter, who between them delivered Emily Dickinson's 'letter to the World'— rescuing this genius hermit from obscurity by deciphering and publishing her sheaves of high voltage poetry…Riveting, unblinkered, sad, and brave, After Emily makes the case for these two posthumous amanuenses as urgent agents of critical work we came so near to losing.

— Gregory Maguire, bestselling author of Wicked and Hiddensee

Dobrow has succeeded in illuminating more fully than ever before the intricate net of desires, both conscious and unconscious, that led Mabel Loomis Todd and Millicent Todd Bingham to undertake the editing of Emily Dickinson's writings. In Dobrow's rendering, biography fuses with American tragedy. After Emily is a book for and of our time: a meditation on the nature of agency and the role of affect in women's lives and writing.

— Marta Werner, author of Emily Dickinson's Open Folios

The entire nuanced and complicated story of Mabel Loomis Todd, Millicent Todd Bingham, and Emily Dickinson is ours at last in this diligently sourced and compellingly written history.
— Marianne Curling, Curator of the Amherst Historical Society
W. W. Norton & Company, 9780393249262, 384pp.
Publication Date: October 30, 2018
About the Author
Julie Dobrow is a professor and director of the Center for Interdisciplinary Studies at Tufts University. Her writing has appeared in the Boston Globe Magazine and the Huffington Post, among others. She lives outside of Boston.
or
Not Currently Available for Direct Purchase