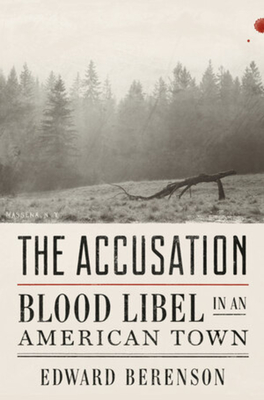 The Accusation
Blood Libel in an American Town
Hardcover

* Individual store prices may vary.
Other Editions of This Title:
Digital Audiobook (9/9/2019)
Description
A chilling investigation of America's only alleged case of blood libel, and what it reveals about antisemitism in the United States and Europe.
On Saturday, September 22, 1928, Barbara Griffiths, age four, strayed into the woods surrounding the upstate village of Massena, New York. Hundreds of people looked everywhere for the child but could not find her. At one point, someone suggested that Barbara had been kidnapped and killed by Jews, and as the search continued, policemen and townspeople alike gave credence to the quickly spreading rumors. The allegation of ritual murder, known to Jews as "blood libel," took hold.
To believe in the accusation seems bizarre at first glance—blood libel was essentially unknown in the United States. But a great many of Massena's inhabitants, both Christians and Jews, had emigrated recently from Central and Eastern Europe, where it was all too common. Historian Edward Berenson, himself a native of Massena, sheds light on the cross-cultural forces that ignited America's only known instance of blood libel, and traces its roots in Old World prejudice, homegrown antisemitism, and the resurgence of the Ku Klux Klan in the 1920s. Residues of all three have persisted until the present day.
More than just the disturbing story of one town's embrace of an insidious anti-Jewish myth, The Accusation is a shocking and perceptive exploration of American and European responses to antisemitism.
Praise For The Accusation: Blood Libel in an American Town…
Reminds us that what seems inconceivable is nonetheless possible.
— Judith Shulevitz - New York Times Book Review

As frightening in its own way as prime Stephen King....A warning from the past that can't be ignored.
— Lewis Beale - The Daily Beast

Gripping....In describing the events of Massena in 1928, Berenson reminds the reader how vulnerable the minority can be and how quickly a community can turn against one of its very own....Jews and non-Jews must read this book and take the messages from the past to heart, ensuring that old wives' tales remain just that.
— Menachem Shlomo - Jerusalem Post

This model of micro-history illuminates both the persistence and inconsistency of antisemitism in Western culture through the unlikely prism of an almost forgotten event in a backwater American town during the presidential election of 1928. Berenson's research ranges widely over time and space, and his narrative deftly blends scholarly generalizations with nitty-gritty historical reconstruction. The highly readable result is a tour de force of insight and synthesis.
— Peter Hayes, author of Why? Explaining the Holocaust

An extraordinary—and timely—story expertly told. Edward Berenson, a distinguished historian of modern Europe, opens up a side of early twentieth-century American history that feels both startling and eerily familiar in its mix of ethnocentrism and political toxicity. A lucid, deeply intelligent, and important book.
— Steven J. Zipperstein, author of Pogrom: Kishinev and the Tilt of History

The Accusation starts with what amounted to an obscure footnote in regional narratives and a minor curiosity in studies of American Jewish history, and builds upon it a very large, important story. In a richly woven tapestry, Edward Berenson examines the many strands that link early twentieth-century Massena, New York, to the Middle Ages, when Jews found themselves accused of using the blood of young Christians to bake matzo, their ritual Passover bread. Deftly connects the very local to the national and to the global.

— Hasia R. Diner, Paul S. and Sylvia Steinberg Professor of American Jewish History, New York University

A blood libel in twentieth-century America? In an ordinary American town? In his astonishing study of this tainted fable, Edward Berenson, a distinguished historian with family roots in Massena, New York, uncovers the reason we ought not to be astonished: the blood libel is the lie that never dies. In its multiple mercurial guises, and in the latest headlines, it lives on. The Accusation is not mere history. It is news.

— Cynthia Ozick, author of Foreign Bodies

In an improbable age when chants from Charlottesville, 'Jews will not replace us!,' and synagogue shootings in Pittsburgh and San Diego evoke darker times of antisemitic violence, The Accusation is a frightful reminder that even in the United States, when the conditions are right, it can happen here. A wonderful and important book that, given current events, leaves its final chapter still unwritten.

— Thane Rosenbaum, author of The Myth of Moral Justice: Why Our Legal System Fails to Do What's Right

Edward Berenson's meticulous, intricate history of the European roots of 'blood libel' anti-Semitism—and the single time a small American town fell into its thrall—is a stellar example of the universal importance of historical research. The Accusation isn't just the story of Barbara Griffiths' disappearance, and the unfounded claim that shook the small Jewish community in Massena, New York—more importantly, it's the story of how it happened, and how it could happen again.

— Rebecca Schuman, author of Schadenfreude, A Love Story

The Accusation is a gripping and disturbing account, told in calm and measured prose, of how one of history's most persistent slurs—the Blood Libel against Jewish communities across Europe and the Near East—resurfaced in small-town America in the 1920s. Its focus may be specific, but its relevance is boundless and important: our understanding of immigration, the complexities of xenophobia, and the dangerous tenacity against all reason of racial myths are all enhanced in this fascinating marriage of scholarship and storytelling.

— Jim Crace, author of the National Book Critics Circle Award Winner, Being Dead
W. W. Norton & Company, 9780393249422, 256pp.
Publication Date: September 10, 2019
About the Author
Edward Berenson is a professor of history at New York University. He is the author of Europe in the Modern World and The Statue of Liberty: A Transatlantic Story. He lives in Tarrytown, New York, with his wife, Catherine Johnson.
or
Not Currently Available for Direct Purchase