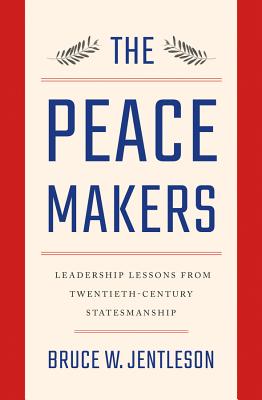 The Peacemakers (Hardcover)
Leadership Lessons from Twentieth-Century Statesmanship
W. W. Norton & Company, 9780393249569, 400pp.
Publication Date: April 24, 2018
Other Editions of This Title:
Compact Disc (6/30/2018)
Pre-Recorded Audio Player (10/1/2018)
* Individual store prices may vary.
Description
In the twentieth century, great leaders played vital roles in making the world a fairer and more peaceful place. How did they do it? What lessons can be drawn for the twenty-first-century global agenda?
Those questions are at the heart of The Peacemakers, a kind of global edition of John F. Kennedy's Profiles in Courage. Writing at a time when peace seems elusive and conflict endemic, when tensions are running high among the major powers, when history has come roaring back, when democracy and human rights are yet again under siege, when climate change is moving from future to present tense, and when transformational statesmanship is so needed, Bruce W. Jentleson shows how twentieth-century leaders of a variety of types—national, international institutional, sociopolitical, nongovernmental—rewrote the zero-sum scripts they were handed and successfully made breakthroughs on issues long thought intractable.
The stories are fascinating: Henry Kissinger, Zhou Enlai, and the U.S.-China opening; Mikhail Gorbachev and the end of the Cold War; Dag Hammarskjöld's exceptional effectiveness as United Nations secretary-general; Nelson Mandela and South African reconciliation; Yitzhak Rabin seeking Arab-Israeli peace; Mahatma Gandhi as exemplar of anticolonialism and an apostle of nonviolence; Lech Walesa and ending Soviet bloc communism; Gro Harlem Brundtland and fostering global sustainability; and a number of others. While also taking into account other actors and factors, Jentleson tells us who each leader was as an individual, why they made the choices they did, how they pursued their goals, and what they were (and weren't) able to achieve.
And not just fascinating, but also instructive. Jentleson draws out lessons across the twenty-first-century global agenda, making clear how difficult peacemaking is, while powerfully demonstrating that it has been possible—and urgently stressing how necessary it is today. An ambitious book for ambitious people, The Peacemakers seeks to contribute to motivating and shaping the breakthroughs on which our future so greatly depends.
About the Author
Bruce W. Jentleson is professor of public policy and political science at Duke University, where he served from 2000 to 2005 as director of the Terry Sanford Institute of Public Policy. He has served as a senior advisor to the U.S. State Department Policy Planning Director; as a foreign policy aide in the U.S. Senate; and as foreign policy advisor to Al Gore during his 2000 presidential campaign. In addition to numerous articles, he is the co-author of The End of Arrogance: America in the Global Competition of Ideas, with Steven Weber.
Praise For The Peacemakers: Leadership Lessons from Twentieth-Century Statesmanship…
Bruce W. Jentleson combines scholarly breadth and depth with practical insight and inspired storytelling. The Peacemakers is a book badly needed for our time, reminding us all that the choices made by individual leaders can transform our world.

— Anne-Marie Slaughter, president and CEO, New America, and State Department policy planning director

With diplomacy too often in retreat and under attack, we need to learn from the past as well as understand the future. Bruce W. Jentleson's wide-ranging study is a welcome reminder that big problems are there to be solved, and can be.
— Rt. Hon. David Miliband, president and CEO, International Rescue Committee, and United Kingdom foreign secretary

Peace has many facets and many types of leaders. Bruce W. Jentleson provides a fascinating selection of examples of who, why, how and what they have done. It is a very readable account that brings new insights to a crucial subject.
— Joseph S. Nye, Jr., Harvard professor and author of Presidential Leadership and the Creation of the American Era