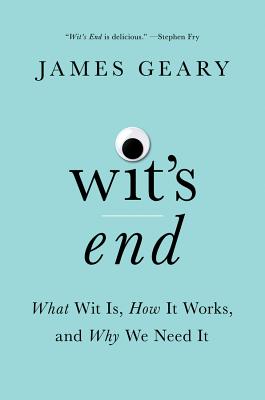 Wit's End
What Wit Is, How It Works, and Why We Need It
Hardcover

* Individual store prices may vary.
Other Editions of This Title:
Digital Audiobook (11/12/2018)
Paperback (10/29/2019)
Compact Disc (11/13/2018)
MP3 CD (11/13/2018)
Description
"A witty book about wit that steers an elegant path between waggishness and wisdom." —Stephen Fry
Much more than a knack for snappy comebacks, wit is the quick, instinctive intelligence that allows us to think, say, or do the right thing at the right time in the right place. In this whimsical book, James Geary explores every facet of wittiness, from its role in innovation to why puns are the highest form of wit. Geary reasons that wit is both visual and verbal, physical and intellectual: there's the serendipitous wit of scientists, the crafty wit of inventors, the optical wit of artists, and the metaphysical wit of philosophers.
In Wit's End, Geary embraces wit in every form by adopting a different style for each chapter; he writes the section on verbal repartee as a dramatic dialogue, the neuroscience of wit as a scientific paper, the spirituality of wit as a sermon, and other chapters in jive, rap, and the heroic couplets of Alexander Pope. Wit's End agilely balances psychology, folktales, visual art, and literary history with lighthearted humor and acute insight, drawing upon traditions of wit from around the world.
Entertaining, illuminating, and entirely unique, Wit's End demonstrates that wit and wisdom are really the same thing.
Praise For Wit's End: What Wit Is, How It Works, and Why We Need It…
Wit's End juggles scholarship, humorous anecdote and critical insight with a diabolical, almost sinister dexterity. No shrinking violet, Geary fully intends to strut his stuff, to glitter and beguile, and he does so with remarkable ingenuity and chutzpah.

— Washington Post

Geary is a keen storyteller, promiscuous with quotes and figures. One could do worse at a cocktail party than simply opening his book at random and reading aloud.
— The New Yorker

Crucially, instead of analyzing wit to death, Mr. Geary chooses to embody it... [He] writes not just playfully but with panache... Geary's chief success is in conveying the power of wit to refresh the mind.
— Wall Street Journal

I have been reading Wit's End in juxtaposition to rereading and again writing about James Joyce's Ulysses. Geary prompts me to think that Joyce's title could have been No End to Wit. Goethe wrote an essay called No End to Shakespeare. There seems to be no end to James Geary's versatility.

— Harold Bloom

Comedy is famously impossible to describe without destroying it, so James Geary—in this entertaining and informative and funny book—makes a very smart and effective move: he embodies the many different forms that wit takes, from poems to jokes to jive to rap. In a time of constant, unintentional humor, here is a purposeful and valuable reminder that sometimes it's on purpose and sometimes it's very nearly life-saving.
— David Shields, best-selling author of Reality Hunger and The Thing About Life Is One Day You'll Be Dead

Whoever was the foremost authority on this topic is now second-most.
— Bob Mankoff, author of How About Never—Is Never Good for You?

If you've ever spent hours overanalyzing your favorite stand-up special or sitcom episode, this is the kind of insightful, carefully reasoned deep dive you'll love.
— David Litt, New York Times best-selling author of Thanks, Obama: My Hopey, Changey White House Years

Readers roaring with laughter at outrageous puns one moment find themselves carefully assessing psychological studies the next... An exhilarating romp, entertaining and enlightening.
— Booklist (starred review)
W. W. Norton & Company, 9780393254945, 128pp.
Publication Date: November 13, 2018
About the Author
James Geary is the author of four previous books, including the New York Times bestseller The World in a Phrase, and is the deputy curator at Harvard University's Nieman Foundation for Journalism. A sought-after speaker and avid juggler, he lives near Boston, Massachusetts.