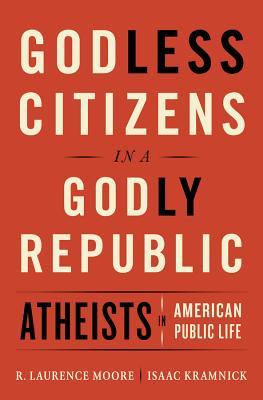 Godless Citizens in a Godly Republic
Atheists in American Public Life
Hardcover

* Individual store prices may vary.
Other Editions of This Title:
Paperback (8/20/2019)
Compact Disc (8/21/2018)
MP3 CD (8/21/2018)
Compact Disc (8/21/2018)
Description
If the First Amendment to the U.S. Constitution protects religious liberty, why doesn't it protect atheists?
God occupies our nation's consciousness, even defining to many what it means to be American. Nonbelievers have often had second-class legal status and have had to fight for their rights as citizens.
As R. Laurence Moore and Isaac Kramnick demonstrate in their sharp and convincing work, avowed atheists were derided since the founding of the nation. Even Thomas Paine fell into disfavor and his role as a patriot forgotten. Popular Republican Robert Ingersoll could not be elected in the nineteenth century due to his atheism, and the suffragette Elizabeth Cady Stanton was shunned when she questioned biblical precepts about women's roles.
Moore and Kramnick lay out this fascinating history and the legal cases that have questioned religious supremacy. It took until 1961 for the Supreme Court to ban religious tests for state officials, despite Article 6 of the Constitution. Still, every one of the fifty states continues to have God in its constitution. The authors discuss these cases and more current ones, such as Burwell v. Hobby Lobby Stores, Inc., which address whether personal religious beliefs supersede secular ones.
In Godless Citizens in a Godly Republic, the authors also explore the dramatic rise of an "atheist awakening" and the role of organizations intent on holding the country to the secular principles it was founded upon.
Praise For Godless Citizens in a Godly Republic: Atheists in American Public Life…
A thorough and useful history of the legal and political status of atheists in America.
— Casey Cep - The New Yorker

This compact and thorough work is a perfect introduction to atheism in America.
— Booklist

An impassioned review of the demands of a little-considered minority.
— Kirkus Reviews

This accessible and sincere book usefully makes explicit often-unspoken currents in American political life.
— Publishers Weekly

This work provides important historical insights into a contentious contemporary issue. Highly recommended for readers interested in history, law, and political science, as well as those seeking positive approaches to expanding religious liberty.
— Library Journal

An illuminating read on an increasingly important aspect of American history and politics. With more Americans eschewing religion, such a book is both timely and warranted.
— Phil Zuckerman, author of Living the Secular Life

Godless Citizens in a Godly Republic provides exactly what we need more of from historians but so rarely get: accessible, well-written prose combined with scholarly discipline in the service of a contemporary issue badly in need of light rather than heat.

— Eric Alterman, author of Inequality and One City

R. Laurence Moore and Isaac Kramnick trace the often-shocking history of atheism in America. In a nation dedicated to the separation of church and state, we have seen furious battles over compulsory school prayer, discrimination against nonbelievers, and continuing efforts to declare this to be 'a Christian nation.' Moore and Kramnick bring to life a continuing struggle to make this nation what the Founders intended it to be.
— Geoffrey R. Stone, author of Sex and the Constitution

As American demographics trend increasingly secular, religious conservatives are trying harder than ever to define the nation's law and politics in their terms. Meanwhile, seeing secularism under attack, nonbelievers are standing up and speaking out as never before. Godless Citizens in a Godly Republic provides unique and valuable insight into these culture wars.

— David Niose, author of Nonbeliever Nation: The Rise of Secular Americans
W. W. Norton & Company, 9780393254969, 256pp.
Publication Date: August 21, 2018
About the Author
Isaac Kramnick is professor emeritus of government at Cornell University.

R. Laurence Moore is professor emeritus of history and American studies at Cornell University
or
Not Currently Available for Direct Purchase