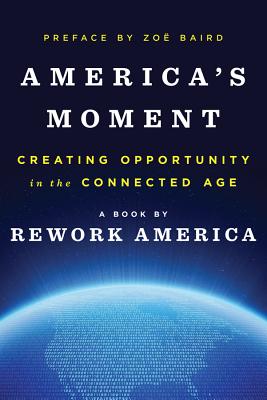 America's Moment
Creating Opportunity in the Connected Age
Hardcover

* Individual store prices may vary.
Description
It is time for a new conversation.
Amid the biggest economic transformation in a century, the challenge of our time is to make sure that all Americans benefit from the wave of digital revolutions around the world that have permeated and upended modern life. Yet today's economic arguments seem stuck. We need a new vision of a hopeful future and a new action agenda.
So many Americans are uncertain about the future. How can there be so many paths to opportunity with so few people traveling them? As a nation, we have to understand what is required to help Americans succeed now, and how to prepare our country for what comes next.
We have been here before. A hundred years ago, America experienced the greatest economic transformation and technological revolution in its history. The transformation of the past twenty years—as the world has moved through the information era into the digital age—has turned our life and work upside down once again. It is a time of tremendous change but also of tremendous possibility.
Rework America is a group of American leaders who know from experience the challenges we face—and the potential solutions. In America's Moment they suggest a practical agenda for an exciting future. It is illustrated by people who are already showing the way and includes actions Americans can take today in their own communities: preparing people to succeed, using the reach of the Internet and data to innovate jobs and to reach new markets all over the world, using technology to match employers and workers, and transitioning to a "no-collar" working world— neither blue collar nor white collar.
Set against the history of how Americans succeeded once before in remaking their country, America's Moment is about the future. It describes how the same forces of change—technology and a networked world—can become tools that can open opportunity to everyone.
Praise For America's Moment: Creating Opportunity in the Connected Age…
Readable and well-reasoned…. America's Moment  provides as useful a guide as any available to turning drift into mastery once again.

— The Economist

Important…. This wise book is a roadmap for restoring the American Dream. It brings a clear-eyed view of the challenges we face, and offers a powerful dose of hope for our future.
— Walter Isaacson - Aspen Journal of Ideas

America's Moment is not just remarkable for its thoroughness in addressing the questions the country faces, but also for its intellectual diversity.

— Felix W. Ortiz III - Huffington Post

In an age of daunting pessimism, Rework America offers an unabashedly positive view of how things can be. In an era best characterized by intense polarization on all fronts, Rework America reminds us of what made us such a great nation in the first place and how we can recapture the optimism we seem to have lost over the past few decades.
— Aaron W. Hughey - Bowling Green Daily News

A clear-headed, economically sophisticated, historically grounded, vividly argued guide to the next stage of American growth.
— James Fallows - The Atlantic

At a time of great technological change and fast-shifting global conditions, this book provides a clear look at how we got to this moment, what its unique opportunities are, and how we can move forward in ways that maximize outcomes for everyone. For anyone looking for insights and inspiration on navigating the twenty-first-century economy, this is essential reading
— Reid Hoffman, cofounder/chairman of LinkedIn and coauthor of the #1 New York Times bestseller The Alliance: Managing Talent in the Networked Age
W. W. Norton & Company, 9780393285130, 368pp.
Publication Date: June 15, 2015
About the Author
Rework America is a group of over fifty leaders from across American life. Led by the Markle Foundation and supported by a formidable group of experts, the group spent over a year developing and discussing the ideas in America's Moment. With various partners, Rework America is also encouraging, organizing, and sponsoring concrete innovations around the country to illustrate how the possible can be brought to life.

Zoë Baird is CEO and President of the Markle Foundation, spearheading "Rework America: the Markle Economic Future Initiative." A former executive at General Electric and Aetna, she has also served as a trusted senior advisor to public sector leaders.