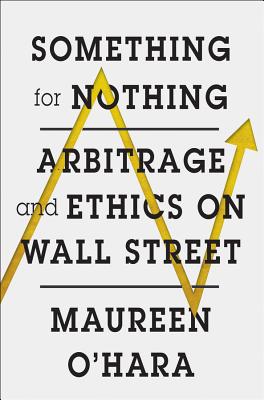 Something for Nothing
Arbitrage and Ethics on Wall Street
Hardcover

* Individual store prices may vary.
Description
From a leading financial economist, a searching examination of the ethics of modern finance.
In 2001, Goldman Sachs structured a complex financial contract so that its client, the government of Greece, would appear to have far less debt than it actually did. When news of this transaction came out years later, the inevitable question arose: Even though Goldman's actions were legal, were they ethically wrong? Is modern finance itself inherently unethical?
In Something for Nothing, financial economist Maureen O'Hara explains that one of the key innovations of modern finance is its reliance on arbitrage, the practice of taking advantage of a price difference between two or more markets to generate profits and remove inefficiencies. When done correctly, arbitrage can create value at little or no cost (in effect, getting "something for nothing"); but it can also be an exploitative tool.
In a lucid, insightful discussion of the ethics of arbitrage in modern finance, O'Hara reveals how the rules can often be stretched into still-legal yet highly unethical business practices. Examining key cases in clear and persuasive prose, O'Hara illuminates various aspects of financial ethics, from the Goldman Greek transaction to Lehman Brothers' attempt to cover up its debt, JPMorgan Chase's maneuvers in California's energy markets, Bernie Madoff's trading strategies in the 1980s, high-frequency trading practices, and toxic loans in France.
Ultimately, O'Hara turns to philosophy and religion to argue for a new, humanistic approach to ethics in the financial industry. She makes a strong case for a way forward: fewer rules and more standards to foster a morally responsible outlook. Fearlessly raising the questions at the moral heart of our financial system, Something for Nothing is a masterful treatise on the ethics of modern finance.
Praise For Something for Nothing: Arbitrage and Ethics on Wall Street…
Something for Nothing joins and extends a worthy tradition dating back at least to Adam Smith—who was both an eminent philosopher and an eminent economist—in wrestling with how markets do or don't succeed in channeling some of our baser traits, greed and deception, in socially useful directions. Events surrounding the financial crisis and the ongoing project or crisis to construct a stable Euro zone have brought these always-present issues to the fore. Maureen O'Hara's distinction as an economist who knows what makes sophisticated 'high frequency' markets work lends especial credibility to her analysis. Getting these things right is important if the general public is to support wise regulation of these markets.

— Thomas J. Sargent, winner of the Nobel Prize in Economics and William R. Berkley Professor of Economics and Business at New York University

In Something for Nothing, Maureen O'Hara takes on the vitally important, and sometimes controversial, topic of 'legal vs ethical' for financial professionals and firms in a practical, balanced, educational, and most enjoyable way. This book should be mandatory reading for people entering our business and for anyone interested in how to restore—and retain—trust in the financial services industry and its people.

— Jack Brennan, former chairman and CEO of the Vanguard Group

Something for Nothing teaches finance from a moral perspective, integrating morals into the theory. This should be essential reading for people seeking an introduction to finance, who feel they can't really understand it properly if they can't square it with their deep values.

— Robert J. Shiller, winner of the Nobel Prize in Economics and Sterling Professor of Economics at Yale University

A leading financial economist attempts to counterbalance 'the impression that modern finance is at best 'ethically challenged' or at worst 'fatally flawed,' a perception bolstered by the 'constant barrage of financial scandals.' . . . . O'Hara . . . whose qualifications and contributions are recognized in the world of finance as well as academia, is concerned with exploring the gray areas between an ethical approach to financial transactions and behavior sanctioned by law. Identifying where such lines are drawn opens the door to a provocative and stimulating discussion of the kinds of ambiguous situations that arise almost daily in the financial sector, as well as the economy at large.
— Kirkus Reviews

Sophisticated.
— Library Journal
W. W. Norton & Company, 9780393285512, 240pp.
Publication Date: October 25, 2016
About the Author
Maureen O'Hara is the Robert Purcell Professor of Finance at the Johnson Graduate School of Management, Cornell University. She is recognized as one of the leading researchers in academic finance, with particular expertise in market microstructure, banking, and law and finance.
or
Not Currently Available for Direct Purchase