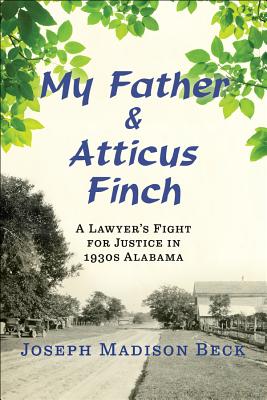 My Father and Atticus Finch
A Lawyer's Fight for Justice in 1930s Alabama
Hardcover

* Individual store prices may vary.
Other Editions of This Title:
Paperback (3/1/2018)
Library Binding, Large Print (8/1/2016)
Description
The story of Foster Beck, the author's late father, whose defense of a black man accused of rape in 1930s Alabama foreshadowed the trial at the heart of To Kill a Mockingbird.
As a child, Joseph Beck heard the stories—when other lawyers came up with excuses, his father courageously defended a black man charged with raping a white woman.
Now a lawyer himself, Beck reconstructs his father's role in State of Alabama vs. Charles White, Alias, a trial that was much publicized when Harper Lee was twelve years old.
On the day of Foster Beck's client's arrest, the leading local newspaper reported, under a page-one headline, that "a wandering negro fortune teller giving the name Charles White" had "volunteered a detailed confession of the attack" of a local white girl. However, Foster Beck concluded that the confession was coerced. The same article claimed that "the negro accomplished his dastardly purpose," but as in To Kill a Mockingbird, there was evidence at the trial to the contrary. Throughout the proceedings, the defendant had to be escorted from the courthouse to a distant prison "for safekeeping," and the courthouse itself was surrounded by a detachment of sixteen Alabama highway patrolmen.
The saga captivated the community with its dramatic testimonies and emotional outcome. It would take an immense toll on those involved, including Foster Beck, who worried that his reputation had cast a shadow over his lively, intelligent, and supportive fiancé, Bertha, who had her own social battles to fight.
This riveting memoir, steeped in time and place, seeks to understand how race relations, class, and the memory of southern defeat in the Civil War produced such a haunting distortion of justice, and how it may figure into our literary imagination.
Praise For My Father and Atticus Finch: A Lawyer's Fight for Justice in 1930s Alabama…
My father, Martin L. King Jr., lauded To Kill a Mockingbird as a 'popular and widely respected novel' that reflects the 'American ethos that responds to the strength of moral force.' I am confident that my father would find this remarkable account of Foster Beck compelling, as it epitomizes 'the strength of moral force.' In our current era of continuing racial injustice, this memoir is both timely and inspirational.

— Martin Luther King III

Joe Beck's vivid account of a racially charged rape case in South Alabama in 1938 is a loving tribute to his father's courage as a young attorney standing up to the evils of Jim Crow. It is also a gripping courtroom drama—with trial evidence and testimony based on facts, not fiction—that draws a haunting portrait of a search for justice.
— Morris Dees, Southern Poverty Law Center founder

In My Father and Atticus Finch, Joseph Madison Beck has summoned the ghosts of 1930s Alabama to tell a true courtroom tale of immense honor and complexity. An ode to an enlightened man among the ignorant, and an urgent diagnosis of how racial loathing ruins lives and makes mute the laws meant to protect them, the story of Beck's father is not only an uncanny precedent to To Kill a Mockingbird but a stellar achievement in its own right.

— William Giraldi, author of Busy Monsters and Hold the Dark

[A] a powerful telling of injustice in a less tolerant time.
— Seth Kantner - Minneapolis Star Tribune

As a lawyer himself, author Beck lays out the circumstances of the case with gripping, almost cinematic detail… [F]ascinating.
— Bridget Thoreson - Booklist

A poignant and warmly engaging memoir.
— Kirkus

An insightful window into the everyday life of small-town Alabama in the 1930s… A sad but gripping account.
— Ryan Claringbole - Library Journal

While this case may or may not have subconsciously influenced Harper Lee, [the author's father] Foster Beck's story is one worth knowing and full of lessons valuable three quarters of a century later.
— Shelf Awareness

Joseph Madison Beck's enthralling memoir on humanity, justice, and the world we live in… is one full of emotion and suspense in equal measure.
— Blake Fournoy - Creative Loafing

Joseph Beck's book is based on facts... and those details make his story fresher and more alive than [Harper Lee's] justifiably oft-told narrative.
— Johnathan Ringel - Daily Report
W. W. Norton & Company, 9780393285826, 240pp.
Publication Date: June 21, 2016
About the Author
Joseph Madison Beck is an Atlanta attorney. He also teaches at Emory Law School and has lectured at universities throughout the United States and abroad.
or
Not Currently Available for Direct Purchase