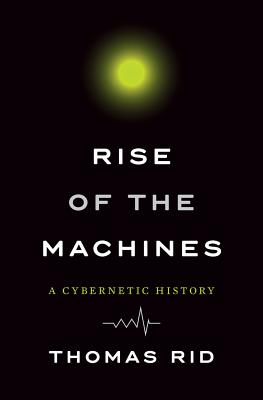 Rise of the Machines
A Cybernetic History
Hardcover

* Individual store prices may vary.
Other Editions of This Title:
Digital Audiobook (6/27/2016)
Paperback (11/21/2017)
Compact Disc (6/28/2016)
MP3 CD (6/28/2016)
Description
A sweeping history of our deep entanglement with technology.
As lives offline and online merge even more, it's easy to forget how we got here. Rise of the Machines reclaims the spectacular story of cybernetics, a control theory of man and machine. In a history that unpacks one of the twentieth century's pivotal ideas, Thomas Rid delivers a thought-provoking portrait of our technology-enraptured era.
Springing from the febrile mind of mathematician Norbert Wiener amid the devastation of World War II, the cybernetic vision underpinned a host of seductive myths about the future of machines. This vision would radically transform the postwar world, ushering in sweeping cultural change. From the Cold War's monumental SAGE bomber defense system to enhanced humans, Wiener's scheme turned computers from machines of assured destruction into engines of brilliant utopias. Cybernetics triggered blissful cults, the Whole Earth Catalog, and feminist manifestos, just as it fueled martial gizmos and the air force's foray into virtual space.
As Rid shows, cybernetics proved a powerful tool for two competing factions—those who sought to make a better world and those who sought to control the one at hand. In the Bay Area, techno-libertarians embraced networked machines as the portal to a new electronic frontier: a peaceful, open space of freedom. In Washington, DC, cyberspace provided the perfect theater for dominance and war. Meanwhile the future arrived secretly in 1996, with Moonlight Maze, dawn of a new age of digital state-on-state espionage. That "first cyberwar," as Rid reveals in a blow-by-blow account, went on for years—and indeed has never stopped. In our long-promised cybernetic future, the line between utopia and dystopia continues to be disturbingly thin.
Drawing on new sources and interviews with hippies, anarchists, sleuths, and spies, Rise of the Machines offers an unparalleled perspective into our anxious embrace of technology and today's clash of digital privacy and security.
Praise For Rise of the Machines: A Cybernetic History…
[E]very chapter opens up as smoothly as an automated glass door. . . . [A] thoughtful, enlightening book. . . a melange of history, media studies, political science, military engineering, and, yes, etymology. . . . In Rise of the Machines, Rid has created a meticulous yet startling alternate history of computation. 

— Bruce Sterling - New Scientist

Rid's fascinating survey of the oscillating hopes and fears expressed by the cybernetic mythos offers an implicit lesson.
— Michael Saler - Wall Street Journal

A common theme connects war machines, computer networks, social media, ubiquitous surveillance, and virtual reality. For fifty years or more the same people and the same ideas weave through these innovations united by the term 'cyber,' as in cyberspace and cybernetics. Read this amazing history and you'll go: 'Aha!'
— Kevin Kelly, founder of Wired magazine, author of What Technology Wants and The Inevitable

Rid, a professor in security studies at King's College London, is a fine chronicler of the debate, deftly recounting the hope, hype, and fears that have accompanied our thinking on automation. . . . Fascinating. . . Dazzling.
— Financial Times

Rid's book offers a useful history as well as a chance to re-examine our current technological crossroads.
— Zeynep Tufekci - The New York Times Book Review

Rise of The Machines isn't just an insightful history of cybernetics but also a fascinating journey with the twentieth-century thinkers—from tech giants and eccentric mathematicians to science fiction writers and counterculture gurus—who have shaped how we understand machines and ourselves.

— P. W. Singer, author of Cybersecurity and Cyberwar: What Everyone Needs to Know and Ghost Fleet: A Novel of the Next World War

Sometimes the most important things are hiding in plain sight. At least that's what I concluded from Rise of the Machines, Thomas Rid's masterful blending of the art of a storyteller, the discipline of an historian, and the sensitivity of a philosopher. Machines unmasks how really disruptive this "cyber thing" has been and will continue to be to nearly all aspects of human experience. It's more than food for thought. It's a banquet.

— General Michael Hayden, former director of the NSA and the CIA

Rise of the Machines is a fascinating history of cybernetics, and of the visionaries like Norbert Wiener who first imagined the potential—and peril—of machines that would begin to replicate the capabilities of the human mind.

— Martin Ford, author of Rise of the Robots

Everyone I know should read this book. It will be a classic.
— Robert Lee, former U.S. Air Force Cyber Warfare Operations officer and SANS instructor
W. W. Norton & Company, 9780393286007, 432pp.
Publication Date: June 28, 2016
About the Author
Thomas Rid is a professor in the Department of War Studies at King's College London and the author of Cyber War Will Not Take Place and War and Media Operations. He lives in London.
or
Not Currently Available for Direct Purchase