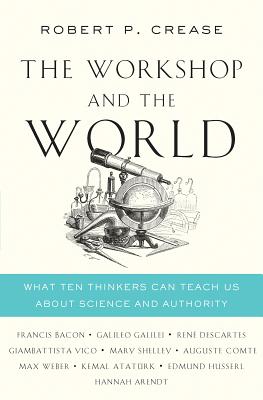 The Workshop and the World
What Ten Thinkers Can Teach Us About Science and Authority
Hardcover

* Individual store prices may vary.
Other Editions of This Title:
MP3 CD (5/21/2019)
Description
A fascinating look at key thinkers throughout history who have shaped public perception of science and the role of authority.
When does a scientific discovery become accepted fact? Why have scientific facts become easy to deny? And what can we do about it? In The Workshop and the World, philosopher and science historian Robert P. Crease answers these questions by describing the origins of our scientific infrastructure—the "workshop"—and the role of ten of the world's greatest thinkers in shaping it. At a time when the Catholic Church assumed total authority, Francis Bacon, Galileo Galilei, and René Descartes were the first to articulate the worldly authority of science, while writers such as Mary Shelley and Auguste Comte told cautionary tales of divorcing science from the humanities. The provocative leaders and thinkers Kemal Atatürk and Hannah Arendt addressed the relationship between the scientific community and the public in in times of deep distrust.
As today's politicians and government officials increasingly accuse scientists of dishonesty, conspiracy, and even hoaxes, engaged citizens can't help but wonder how we got to this level of distrust and how we can emerge from it. This book tells dramatic stories of individuals who confronted fierce opposition—and sometimes risked their lives—in describing the proper authority of science, and it examines how ignorance and misuse of science constitute the preeminent threat to human life and culture. An essential, timely exploration of what it means to practice science for the common good as well as the danger of political action divorced from science, The Workshop and the World helps us understand both the origins of our current moment of great anti-science rhetoric and what we can do to help keep the modern world from falling apart.
Praise For The Workshop and the World: What Ten Thinkers Can Teach Us About Science and Authority…
A masterpiece that explains sophisticated concepts without shortchanging them, and demonstrates 'why the dwindling authority of science' threatens human life. 

A timely, sophisticated analysis of the plague of science denial, and possible correctives, via an examination of the ideas of ten profound thinkers.

Science is under assault. Crease's vital new book explains how science acquired its authority, how that authority has benefited us all—and how the seeds of attack came from within science itself. Pulling off such an ambitious enterprise requires the training of a philosopher, the precision of a scientist, and the storytelling chops of a great biographer. Crease has them all.
— Charles C. Mann, author of 1491 and The Wizard and the Prophet

In this urgent book, Crease shows that there is nothing obvious or inevitable about the social reception of science. Beautifully and clearly written, it is required reading for anyone who cares about the role of science in society.
— Philip Ball, author of Serving the Reich

Rather than hard-sell current scientific claims to those unlikely to listen, Crease enhances the cultural 'authority of the workshop' by showing how science becomes authoritative in the first place. His unique combination of talents and expertise is a benefit to us all.
— Robert C. Scharff, author of How History Matters to Philosophy

We live in a frightening time of assault on the notion of 'truth' and authority. Crease's historical account of the relationship between the public and the expert sheds important light on our current plight.
— Peter Woit, author of Not Even Wrong

How to get angry the right way—that is the question motivating Robert Crease's magisterial account of ten of history's smartest men and women on the verge of making the world a better place. These brilliant, ambitious, sometimes oddball and often self-destructive thinkers, encountered obstacles the likes of which we are seeing today, as techno-scientific utopias turn into dystopias, irrationality thrives, and science denial grows. Through the lives and thoughts of these indispensable apostles of truth, Crease offers readers a profound meditation about the breaking point of modern civilization.

— Jimena Canales, author of The Physicist and the Philosopher

An eloquent, timely account of what went right and what wrong in modernity when it comes to the ways in which scientific discoveries and theories were received by contemporaries. In lively recountings of telling episodes, Crease discusses a rich array of figures ranging from Francis Bacon and Galileo to Edmund Husserl and Hannah Arendt. He demonstrates how earlier forms of casting doubt on the authority of scientific findings offer clues to contemporary ways by which this authority is put in question. Speaking forcefully to the present moment, Crease spells out a series of concrete and efficacious steps by which science denial can be addressed and combated in our own time.
— Edward S. Casey, author of The World on Edge
W. W. Norton & Company, 9780393292435, 272pp.
Publication Date: March 26, 2019
About the Author
Robert P. Crease is the chairman of the philosophy department at Stony Brook University and the author of several books on science, including The Quantum Moment and The Great Equations. He lives in New York City.