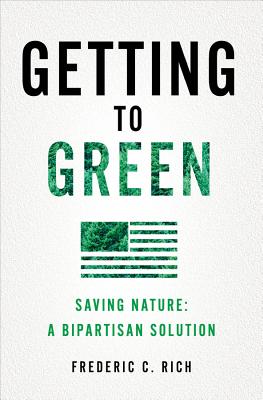 Getting to Green
Saving Nature: A Bipartisan Solution
Hardcover

* Individual store prices may vary.
Other Editions of This Title:
MP3 CD (9/27/2016)
Description
"Regardless of your place on the political spectrum, there is much to admire in this book, which reminds us that the stewardship of nature is an obligation shared by all Americans." —U.S. Senator Angus S. King Jr.
The Green movement in America has lost its way. Pew polling reveals that the environment is one of the two things about which Republicans and Democrats disagree most. Congress has not passed a landmark piece of environmental legislation for a quarter-century. As atmospheric CO2 continues its relentless climb, even environmental insiders have pronounced "the death of environmentalism."
In Getting to Green, Frederic C. Rich argues that meaningful progress on urgent environmental issues can be made only on a bipartisan basis. Rich reminds us of American conservation's conservative roots and of the bipartisan political consensus that had Republican congressmen voting for, and Richard Nixon signing, the most important environmental legislation of the 1970s. He argues that faithfulness to conservative principles requires the GOP to support environmental protection, while at the same time he criticizes the Green movement for having drifted too far to the left and too often appearing hostile to business and economic growth.
With a clear-eyed understanding of past failures and a realistic view of the future, Getting to Green argues that progress on environmental issues is within reach. The key is encouraging Greens and conservatives to work together in the space where their values overlap—what the book calls "Center Green." Center Green takes as its model the hugely successful national land trust movement, which has retained vigorous bipartisan support.
Rich's program is pragmatic and non-ideological. It is rooted in the way America is, not in a utopian vision of what it could become. It measures policy not by whether it is the optimum solution but by the two-part test of whether it would make a meaningful contribution to an environmental problem and whether it is achievable politically. Application of the Center Green approach moves us away from some of the harmful orthodoxies of mainstream environmentalism and results in practical and actionable positions on climate change, energy policy, and other crucial issues. This is how we get to Green.
Praise For Getting to Green: Saving Nature: A Bipartisan Solution…
Essential reading for anyone with a stake in the environmental debate.
— Kirkus Reviews (starred review)

Tightly argued and persuasive, Getting to Green is mandatory reading for anyone who cares about climate change or about fixing the dysfunction in government.

— U.S. Senator Evan Bayh

My fellow environmental leaders may not agree with every word, but we ignore this book at our peril… With a career at the highest levels of global capitalism and as a greatly respected environmental leader, Fred Rich is in a unique position to bring the right and left together to find practical solutions to our environmental challenges.
— Rand Wentworth, president, Land Trust Alliance

A thoughtful analysis of where the Green movement is today and a compelling case for what Greens must do to regain broad public support. Whether you are an environmentalist or a conservationist, liberal or conservative, you must read this book.
— Simon Roosevelt, founder, Conservation Roundtable, and author of American Hunting and Conservation

In an exploration that is by turns history lesson, political commentary, philosophical analysis, and campaign strategy session, [Rich] succeeds in showing that one of the most angrily contested topics in contemporary politics could be, if we can reset some the basic rules of communication, a place of deep and meaningful consensus.
— Gregory E. Kaebnick, Hastings Center, author of Humans in Nature

Getting to Green shows the way: Conservatives need to be welcomed as the indispensable partners for actions on climate and other environmental issues.

— Bob Inglis, six-term GOP congressman from South Carolina
W. W. Norton & Company, 9780393292473, 368pp.
Publication Date: April 18, 2016
About the Author
Frederic C. Rich, an eminent international corporate lawyer and environmental leader, is the author of Getting to Green and the dystopian political novel Christian Nation. He lives in Manhattan and the Hudson Valley of New York.
or
Not Currently Available for Direct Purchase