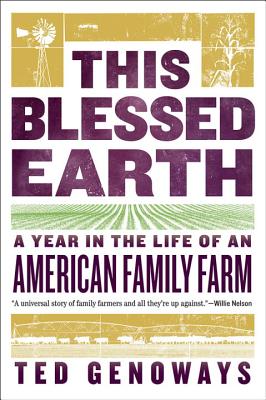 This Blessed Earth
A Year in the Life of an American Family Farm
Hardcover

* Individual store prices may vary.
Other Editions of This Title:
Digital Audiobook (9/18/2017)
Paperback (11/20/2018)
Compact Disc (9/19/2017)
MP3 CD (9/19/2017)
Description
Is there still a place for the farm in today's America?
The family farm lies at the heart of our national identity, yet its future is in peril. Rick Hammond grew up on a small ranch, and for forty years he has raised cattle and crops on his wife's fifth-generation homestead in York County, Nebraska, in hopes of passing it on to their four children. But as the handoff nears, their small family farm—and their entire way of life—are under siege. Rising corporate ownership of land and livestock is forcing small farmers to get bigger and bigger, assuming more debt and more risk. At the same time, after nearly a decade of record-high corn and soybean prices, the bottom has dropped out of the markets, making it ever harder for small farmers to shoulder their loans. All the while, the Hammonds are confronted by encroaching pipelines, groundwater depletion, climate change, and shifting trade policies. Far from an isolated refuge beyond the reach of global events, the family farm is increasingly at the crossroads of emerging technologies and international detente. Following the Hammonds from harvest to harvest, Ted Genoways explores this rapidly changing landscape of small, traditional farming operations, mapping as it unfolds day to day. This Blessed Earth is both a concise exploration of the history of the American small farm and a vivid, nuanced portrait of one family's fight to preserve their legacy and the life they love.
Praise For This Blessed Earth: A Year in the Life of an American Family Farm…
A clear eyed and unsentimental look at how farming has become relentlessly optimized by automation, markets and politics; factors that don't always take into account the guy who's actually driving the tractor.
— New York Times Book Review

This Blessed Earth is a sort of universal story of family farmers and all they're up against in their efforts to take care of the land and make a living from it. It's also a crash course in the history that brought us to this place of corporate power, shrinking resources, and a changing climate. But it plants seeds of hope as the next generation prepares to inherit the family land and all the joys and challenges that come with it. This book is an invitation to all who care about family farmers—which after all is all of us, since we all eat!

— Willie Nelson, founder and president of Farm Aid

It's not fair to claim that you are concerned about the country's food system unless you truly understand the millions of unsung conventional family farmers who produce our corn, soybeans, and beef. Genoways portrays just such a family in a book that is factual, rich in history, and filled with characters you will come to know as friends. He writes with an investigative journalist's mind and a poet's soul.
— Barry Estabrook, author of Tomatoland and Pig Tales

Ted Genoways brings a lifetime of knowledge to the complex story of modern agriculture. His depth of understanding is evident on every page as he follows the Hammonds through a year on their Nebraska farm, examining the way they are not only at the behest of traditional challenges such as weather and time but also subject to international trade agreements, worldwide competition, and the challenges of scale. In This Blessed Earth, Genoways masterfully illustrates the costs and demands of such a life, and beautifully renders the endurance and dignity of those who have chosen it.

— Jane Brox, author of Clearing Land

Everyone who eats in America should read this lyrical and often heartbreaking book about life on a modern American farm. It will change the way you look at what is on your plate.
— Ruth Reichl, New York Times best-selling author of My Kitchen Year

Farming, family, and food all come together in this beautifully written story of what it takes to work this blessed earth.
— Tom Colicchio, chef and co-founder of Food Policy Action

In an impressive and compelling work of literary journalism, Ted Genoways dives deep into the heart of an American farm family, illuminating critical issues troubling our complex food production system. But he also describes in intimate detail the very human struggles of the work—between husband and wife, parent and child, father-in-law and son-in-law—in one family committed to growing our food and passing the work on to the next generation.
— Michael Ruhlman, author of Grocery: The Buying and Selling of Food in America

Genoways writes of the environmental damage wrought by pesticides and overwatering, the risks of genetically modified seed, and the harm of flooding global grain markets with cheap corn. American farming frequently receives tough criticism on these points. The beauty of This Blessed Earth is to understand them from a grower's perspective.

— Outside

This Blessed Earth is both a concise exploration of the history of the American small farm and a vivid, nuanced portrait of one family's fight to preserve their legacy and the life they love.

— Smithsonian

The Blessed Earth is a history book, an economics text, even a soap opera of sorts. If we eat, we should know".

— Kim Ode - Star Tribune

Insightful and empathetic....In his compelling narrative, journalist Genoways gives the reader a kitchen-table view of the vagaries, complexities and frustrations of modern farming.
— Elfrieda Abbe - Milwaukee Journal Sentinel

A remarkable portrait of families in far flung fields, completely plugged in to the world.
— Tom Ashbrook - WBUR On Point

With genuine honesty and historical awareness...Genoways delivers a close-up look at what farmers face today and their efforts to accomplish their goals.
— Bookpage

Timely....This Blessed Earth is a concise look at the history of the American farm and a heartfelt portrait of one family's struggle to maintain their way of life.

— The Missourian
W. W. Norton & Company, 9780393292572, 240pp.
Publication Date: September 19, 2017
About the Author
Ted Genoways is an acclaimed journalist and author of The Chain: Farm, Factory, and the Fate of Our Food. A contributing editor at Mother Jones, the New Republic, and Pacific Standard, he is the winner of a National Press Club Award and the James Aronson Award for Social Justice Journalism, and is a two-time James Beard Foundation Award finalist. He has received fellowships from the NEA and the Guggenheim Foundation. A fourth-generation Nebraskan, Genoways lives outside Lincoln with his wife, Mary Anne Andrei, and their son.
Coverage from NPR
or
Not Currently Available for Direct Purchase