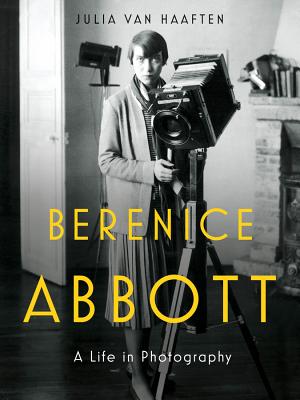 Berenice Abbott
A Life in Photography
Hardcover

* Individual store prices may vary.
Description
The comprehensive biography of the iconic twentieth-century American photographer Berenice Abbott, a trailblazing documentary modernist, author, and inventor.
Berenice Abbott is to American photography as Georgia O'Keeffe is to painting or Willa Cather to letters. She was a photographer of astounding innovation and artistry, a pioneer in both her personal and professional life. Abbott's sixty-year career established her not only as a master of American photography, but also as a teacher, writer, archivist, and inventor. Famously reticent in public, Abbott's fascinating life has long remained a mystery—until now.
In Berenice Abbott: A Life in Photography, author, archivist, and curator Julia Van Haaften brings this iconic public figure to life alongside outlandish, familiar characters from artist Man Ray to cybernetics founder Norbert Wiener. A teenage rebel from Ohio, Abbott escaped first to Greenwich Village and then to Paris—photographing, in Sylvia Beach's words, "everyone who was anyone." As the Roaring Twenties ended, Abbott returned to New York, where she soon fell in love with art critic Elizabeth McCausland, with whom she would spend thirty years.
In the 1930s, Abbott began her best-known work, Changing New York, in which she fearlessly documented the city's metamorphosis. When warned by an older male supervisor that "nice girls" avoid the Bowery—then Manhattan's skid row—Abbott shot back, "I'm not a nice girl. I'm a photographer…I go anywhere." This bold, feminist attitude would characterize all Abbott's accomplishments, including imaging techniques she invented in her influential, space race–era science photography and her tenure as The New School's first photography teacher.
With more than ninety stunning photos, this sweeping, cinematic biography secures Berenice Abbott's place in the histories of photography and modern art, while framing her incredible accomplishments as a female artist and entrepreneur.
Praise For Berenice Abbott: A Life in Photography…
Berenice Abbott captures a large and star-studded life. . . . A vital work of American cultural history.

— New York Times

Absorbing. . . . Abbott's integrity and sense of honor, her restless and fearless nature, and her absolute devotion to telling the truth of her experience, come through loud and clear.
— Washington Post

Insightful. . . . A sophisticated take on Abbott's personal and artistic tragedies and triumphs.
— Jane Ciabattari - BBC

[Van Haaften] chronicles Abbott's demanding life and extraordinary accomplishments with scrupulous detail. .  . . [Her] expert foundational biography brings Abbott into sharp focus.
— Booklist, starred

Thorough and enticing. . . . A full and nuanced portrait of a complicated, hardworking, and creatively brilliant artist.
— Publishers Weekly

A profoundly researched biography of Berenice Abbott. Dramatically written, it is filled with delightful surprises, stunning tragedies, complex relationships…Everyone interested in the bold innovators of twentieth-century modern art will treasure this splendid book.
— Blanche Wiesen Cook, author of Eleanor Roosevelt

With the details and in-depth research of Julia Van Haaften, I have been introduced to Abbott in a new form…The vitality and strength of her as a woman artist is beyond moving and inspirational.
— Catherine Opie, photographer

Julia van Haaften's life of Berenice Abbott is immersive, passionate, well-furnished, and beautifully judged and written. It is a fitting account of an extraordinary life. It made me wish I'd known Abbott, and I'm sure every reader will feel the same way.
— Luc Sante, author of The Other Paris

[An] extraordinary biography of the astonishing Berenice Abbott. Even those who believe they know by heart the thrilling emergence of modernism—especially its women—in Paris, New York, and Berlin in the 1910s and 1920s, will meet its brilliant characters afresh in this absorbing account of the photographer's life and work. Berenice Abbott is a remarkable portrait of a twentieth-century genius.

— Honor Moore, author of The Bishop's Daughter

The characters who parade through the pages of Julia Van Haaften's lively book—Man Ray, Duchamp, Atget, Joyce—constitute a procession of twentieth-century art in its most innovative form. She's gotten her hands on a subject who made us see the world in a new way.
— James Atlas, author of Bellow: A Biography
W. W. Norton & Company, 9780393292787, 656pp.
Publication Date: April 10, 2018
About the Author
Julia Van Haaften was founding curator of the New York Public Library's photography collection in 1980, and was instrumental in furthering digital initiatives at the library and the Museum of the City of New York. She lives in New York.
or
Not Currently Available for Direct Purchase