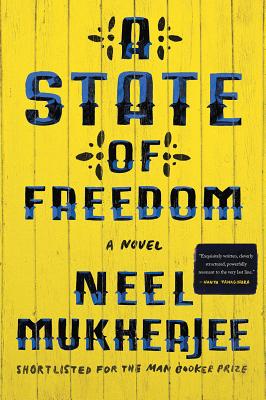 A State of Freedom (Hardcover)
A Novel
W. W. Norton & Company, 9780393292909, 288pp.
Publication Date: January 2, 2018
Other Editions of This Title:
Paperback (2/5/2019)
Compact Disc (1/2/2018)
* Individual store prices may vary.
Description
A New York Times Notable Book of 2018



What happens when one attempts to exchange the life one is given for something better? Can we transform the possibilities we are born into?
In this stunning novel, prize-winning author Neel Mukherjee wrests open the central, defining events of our century: displacement and migration. Five characters, in very different circumstances—from a domestic cook in Mumbai, to a vagrant and his dancing bear, to a girl who escapes terror in her home village for a new life in the city—find out the meanings of dislocation and the desire for more.
Set in contemporary India and moving between the reality of this world and the shadow of another, this novel of multiple narratives—formally daring, fierce, but full of pity—delivers a devastating and haunting exploration of the unquenchable human urge to strive for a different life.
About the Author
Calcutta-born Neel Mukherjee is the author of three acclaimed novels. A State of Freedom was a New York Times Editors' Choice and The Lives of Others was shortlisted for the Man Booker Prize. Mukherjee divides his time between London and the US.
Praise For A State of Freedom: A Novel…
Exquisitely written, cleverly structured, powerfully resonant to the very last line…A profoundly intelligent and empathetic novel of privilege and poverty, advancement and entrapment.

Simply gorgeous…A State of Freedom is a marvel of a book, shocking and beautiful, and it proves that Mukherjee is one of the most original and talented authors working today.


Many of the sections are sprinkled with otherworldly moments and spectral figures, so that these narratives read almost like ghost stories, while others are rooted firmly in the achingly realistic, unequal, and unjust soil of modern day India.

Without announcing his experimental intent too loudly, Mukherjee rips the meat of the novel (imagery, incident, social insight, feeling, mood) from the bones (narrative and character development in the usual sense) and feeds his readers only the richest pieces…Mukherjee looks straight at the ugliest parts of an unequal society and uses what he finds to construct something beautiful.

Unsentimental, vivid, unsparing. Above all, there is compassion here…A calm, compelling, unshrinking portrait of humanity in transition; both disturbing and dazzling.

A compassionate, deeply felt tribute to India's forgotten people who strive to triumph over subjugation. With its mixture of prose styles and narrative voices, Mukherjee's novel is a literary achievement.

Neel Mukherjee's breathtaking A State of Freedom is that rarest, most wonderful of things: a book both literarily dextrous, full of unforgettable scenes, images, language, and characters, as well as a furious, unsparing, clear-eyed study of how a society's gross inequities of money and power demean and deform the human condition. The most astonishing and brilliant novel I have read in a long, long time.

— Hanya Yanagihara

An extraordinary achievement. Subtle and multilayered, it's a study of the brutality of social divisions, written with tremendous tenderness; a work that insists on the dignity of figures obliged to lead undignified lives. A powerful, troubling novel. The moment I finished it, I began it again.
— Sarah Waters

A State of Freedom is formally audacious, vividly observed, and deeply imagined. Unsentimental yet full of heart, grimly real yet mysteriously dreamlike, with characters who continue to live their complicated lives long after you've turned the last page. Just a beautiful, beautiful piece of work.

— Karen Joy Fowler

This is a great hymn to poor, scabby humanity, a devastating portrait of poverty and the inhumanity of the rich to the poor. A masterpiece.
— Edmund White
or
Not Currently Available for Direct Purchase