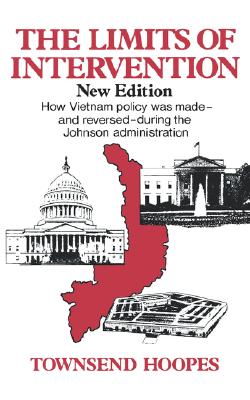 The Limits of Intervention
How Vietnam Policy was Made--and Reversed--During the Johnson Administration
Paperback

* Individual store prices may vary.
Description
"Far and away the most illuminating account we have of the people and policies that led the United States into the Vietnam catastrophe. . . .A significant contribution to the history of our times." —Arthur Schlesinger, Jr.
How the war in Vietnam came to represent the outer limits of feasible American intervention, how the working of the democratic process finally forced President Johnson to abandon a policy of escalation, and why the particular events of March 1968 signaled the end of an era constitute the subject matter of this prize-winning, firsthand account. As under secretary of the Air Force from October 1967 to February 1969, Townsend Hoopes had an insider's perspective on events. His book is both compelling memoir and searching historical inquiry. For this new paperback edition, Mr. Hoopes has written a supplemental chapter interpreting the final events of 1973-75 and assessing with masterful clarity the whole period of American involvement in Vietnam, from 1945 to 1975.
W. W. Norton & Company, 9780393304275, 292pp.
Publication Date: August 17, 1987
About the Author
Townsend Hoopes was the director of the American Committee on U.S.-Soviet Relations in Washington and past president of the Association of American Publishers. He was also author of The Devil and John Foster Dulles (1973), which won a Bancroft History Prize, and numerous articles in Foreign Affairs, Atlantic Monthly, and other publications.