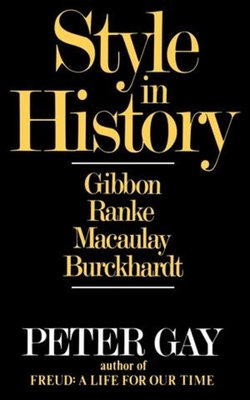 Style in History (Paperback)
W. W. Norton & Company, 9780393305586
Publication Date: January 17, 1989
* Individual store prices may vary.
Description
"Peter Gay's Style in History has the great merit to show that in a work of history its style is not a decorative addition to the historian's narration but an integral element of the story through which its facts become alive and real. Reading Gay's analysis of Gibbon and Ranke, Macaulay and Burckhardt, we understand better why they have become and are the admired masters of the historical craft." —Felix Gilbert, School of Historical Studies, The Institute for Advanced Study
What does an historian's style reveal? In this original and lucid guide to the proper reading of Gibbon, Ranke, Macaulay, and Burckhardt—great historians who were also great stylists—Peter Gay demonstrates that, style is an invaluable clue to the historian's insight. Thus, for Peter Gay, style is the key to culture, and the "truth" of history—as it helps to define that culture—can only be fully understood through an objective and thorough analysis of all its elements.
About the Author
Peter Gay (1923—2015) was the author of more than twenty-five books, including the National Book Award winner The Enlightenment, the best-selling Weimar Culture, and the widely translated Freud: A Life for Our Time.