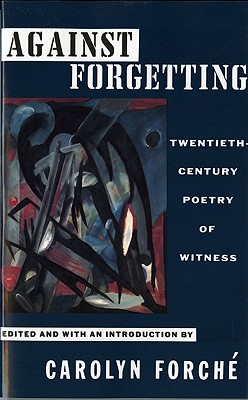 Against Forgetting
Twentieth-Century Poetry of Witness
Paperback

* Individual store prices may vary.
Description
This landmark anthology, the first of its kind, takes it impulse from the words of Bertolt Brecht: "In these dark times, will there also be singing? / Yes, there will be singing. / About the dark times."
Bearing witness to extremity—whether of war, torture, exile, or repression—the volume encompasses more than 140 poets from five continents, over the span of this century from the Armenian genocide to Tiananmen Square.
Praise For Against Forgetting: Twentieth-Century Poetry of Witness…
From every continent comes the news that our age is an age of murder and repression on a scale unimagined before. And yet I can't peruse this book without marveling at what beauty these writers have made of the calamity called the Twentieth Century. I would not have thought a poetry anthology could be so stirring.
— Arthur Miller

In a class by itself, edited and and introduced with precise passion and Olympian breadth, Against Forgetting encapsulates both the horrors of our century and the power of musical language to make a place to live, breathe, hope, love.

— Calvin Bedient

Poetry cannot block a bullet or still a sjambok, but it can bear witness to brutality—thereby cultivating a flower in a graveyard. Carolyn Fourché's Against Forgetting is itself a blow against tyranny, against prejudice, against injustice. It bears witness to the evil we would prefer to forget, but never can—and never should.

— Nelson Mandela
W. W. Norton & Company, 9780393309768, 816pp.
Publication Date: May 17, 1993
About the Author
Carolyn Forché, poet, translator, and activist, is professor of English at Georgetown University. She has published two award-winning volumes of poetry, Gathering the Tribes and The Country Between Us. In 1990 Ms. Fourché received a Lannan Literary Award, granted to poets and writers of literary excellence "whose work promotes a truer understanding of contemporary life." Her most recent volume of poetry is Blue Hour.