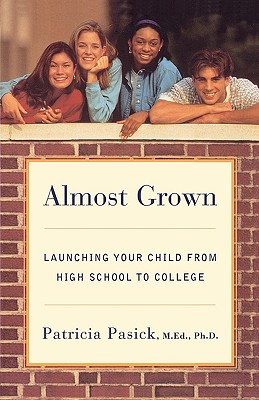 Almost Grown
Launching Your Child from High School to College
Paperback

* Individual store prices may vary.
Description
A time of tumult, your children's transition from high school to college can also be a time of growth. This book shows you how.
Almost Grown
is a guide for parents to the final years of high school and first years of college, offering intelligent counsel not only in practical issues such as developing a college search plan or handling questions of money, sex, and substance abuse, but also in the psychological issues that arise during this family transition. Writing as both psychologist and parent, Patricia Pasick tackles the key question of how mothers and fathers can foster adolescents' growth and autonomy while maintaining family connections and stability. She also explores the unexpected: the impact of the changing family on younger siblings, the benefits and frustrations of college students' returning home, the challenges and opportunities that nontraditional families face, and more.
Pasick delves into another critical yet underplayed aspect of the college transition: how parents' lives change.
Almost Grown
guides readers through this major step in adult development and new start to adult partnerships.
Almost Grown
contains advice from high school and college admissions counselors across the country and, at the heart of the book, stories of personal experience from parents and adolescents who are making, or have made, the transition.
W. W. Norton & Company, 9780393317107, 264pp.
Publication Date: March 17, 1998
About the Author
Patricia Pasick, M.Ed., Ph.D., is a family therapist and clinical psychologist in Ann Arbor, Michigan, and teaches at the Fielding Institute. She is married and has two children, ages 18 and 22.