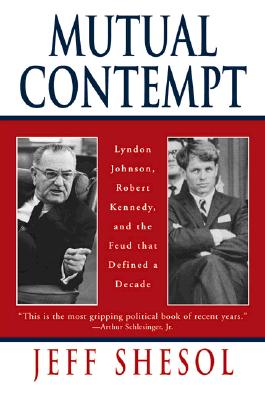 Mutual Contempt: Lyndon Johnson, Robert Kennedy, and the Feud That Defined a Decade (Paperback)
Lyndon Johnson, Robert Kennedy, and the Feud That Defined a Decade
W. W. Norton & Company, 9780393318555, 591pp.
Publication Date: October 1, 1998
Description
Lyndon Johnson and Robert Kennedy loathed each other. Their antagonism, propelled by clashing personalities, contrasting views, and a deep, abiding animosity, would drive them to a bitterness so deep that even civil conversation was often impossible. Played out against the backdrop of the turbulent 1960s, theirs was a monumental political battle that would shape federal policy, fracture the Democratic party, and have a lasting effect on the politics of our times. Drawing on previously unexamined recordings and documents, as well as memoirs, biographies, and scores of personal interviews, Jeff Shesol weaves the threads of this epic story into a compelling narrative that reflects the impact of LBJ and RFK's tumultuous relationship on politics, civil rights, the war on poverty, and the war in Vietnam. As Publishers Weekly noted, "This is indispensable reading for both experts on the period and newcomers to the history of that decade." "An exhaustive and fascinating history. . . . Shesol's grasp of the era's history is sure, his tale often entertaining, and his research awesome." Russell Baker, New York Review of Books "Thorough, provocative. . . . The story assumes the dimensions of a great drama played out on a stage too vast to comprehend." Jonathan Yardley, Washington Post (1997 Critic's Choice) "This is the most gripping political book of recent years." Arthur Schlesinger, Jr. A New York Times Notable Book of the Year.
Advertisement