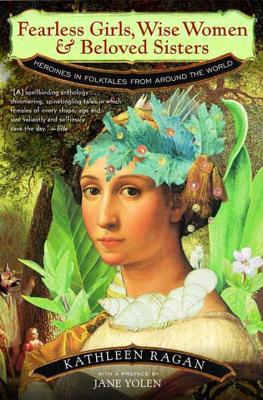 Fearless Girls, Wise Women, and Beloved Sisters
Heroines in Folktales from Around the World
Paperback

* Individual store prices may vary.
Description
One hundred great folk tales and fairy tales from all over the world about strong, smart, brave heroines.
Dismayed by the predominance of male protagonists in her daughters' books, Kathleen Ragan set out to collect the stories of our forgotten heroines. Gathered from around the world, from regions as diverse as sub-Saharan Africa and Western Europe, from North and South American Indian cultures and New World settlers, from Asia and the Middle East, these 100 folktales celebrate strong female heroines.
Fearless Girls, Wise Women, and Beloved Sisters is for all women who are searching to define who they are, to redefine the world and shape their collective sensibility. It is for men who want to know more about what it means to be a woman. It is for our daughters and our sons, so that they can learn to value all kinds of courage, courage in battle and the courage of love. It is for all of us to help build a more just vision of woman.
Praise For Fearless Girls, Wise Women, and Beloved Sisters: Heroines in Folktales from Around the World…
[A] spell-binding anthology…shimmering, spine-tingling tales in which females of every shape, age, and size valiantly and selflessly save the day.
— Elle

It is the magic of these stories that came as a revelation to me…I hope this book becomes a classic.
— Susan Griffin - Los Angeles Times

The stories are gems…delightfully fresh folktales from six continents whose lively plots will enspirit both parents and teachers.
— Ruth P. Bottigheimer, author of Grimm's Bad Girls and Bold Boys

Anthologist Kathleen Ragan has, with the publication of this book, become an important figure in the restoration of the feminine aspect of the hero. She gives us the broadest selection of female hero stories that has ever been published.
— Jane Yolen, from the foreword

As edifying as it is entertaining.
— Booklist
W. W. Norton & Company, 9780393320466, 480pp.
Publication Date: May 17, 2000
About the Author
Kathleen Ragan is the author of Fearless Girls, Wise Women, and Beloved Sisters and Outfoxing Fear. She has lived in or traveled to fifty countries and currently lives in Alexandria, Virginia.