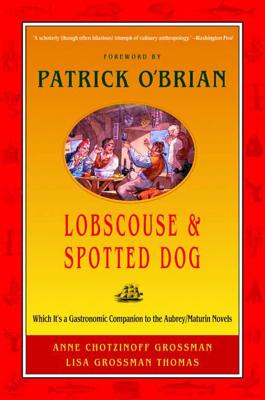 Lobscouse & Spotted Dog: Which It's a Gastronomic Companion to the Aubrey/Maturin Novels (Paperback)
Which It's a Gastronomic Companion to the Aubrey/Maturin Novels
W. W. Norton & Company, 9780393320947, 304pp.
Publication Date: September 17, 2000
Description
Celebrate the joys of Patrick O'Brian's acclaimed Aubrey/Maturin series with this delightful cookbook, full of the food and drink that so often complement Jack Aubrey and Stephen Maturin's travels. Collected here are authentic and practical recipes for such eighteenth- and early-nineteenth- century dishes as Burgoo, Drowned Baby, Sea-Pie, Solomongundy, Jam Roly-Poly, Toasted Cheese, Sucking Pig, Treacle-Dowdy, and, of course, Spotted Dog. Also included are historical notes on the origins of the dishes as well as sections on the preparing of roasts, puddings, and raised pies." A] splendid cookbook...graced with erudite bits of naval and gastronomical history....Deftly researched and written in prose nearly as funny as O'Brian's own." Publishers Weekly "A thoroughly readable cookbook, as well as a useful appendix to a great series of novels and a newly opened window into a time now nearly 200 years gone." San Jose Mercury News.
Advertisement