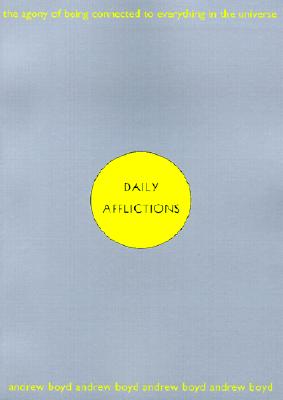 Daily Afflictions
The Agony of Being Connected to Everything in the Universe
Paperback

* Individual store prices may vary.
Description
A dark, twisted, existential manifesto posing as a book of daily inspiration.
Revolutionizing the best-selling genre, this thinking man's parody hijacks the format of daily affirmations but offers a different message: only in paradox, truth; only in darkness, light; only in affliction, affirmation. These "daily afflictions" offer readers inspiration, practical advice, and food for thought, as they navigate the jungle of existential terror that begins anew each day. We follow the fictional Brother Void on a spiritual journey, both profound and hilarious, into self, family, love, career, death—and, ultimately, Enlightenment. We learn to "listen to our inner critic," appreciate "the nurturing power of dysfunctional families," "love the wrong person," "succeed at failure," "embrace our inner corpse," and, finally, withstand the "agony of being connected to everything in the Universe." Part spiritual autobiography, part ironic meditation, this tragicomic guide to life's sublime predicaments will elevate and educate the spirit. The truth will set you free, Brother Void reminds us, but first it will hurt like hell.
W. W. Norton & Company, 9780393322811, 146pp.
Publication Date: January 17, 2002
About the Author
Andrew Boyd is a writer and activist living in New York. He is the author of Life's Little Deconstruction Book: Self-Help for the Post-Hip