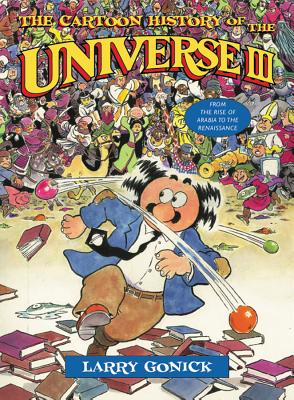 The Cartoon History of the Universe III
From the Rise of Arabia to the Renaissance
Paperback

* Individual store prices may vary.
Description
An irreverent survey in comics spanning world history from the birth of Islam to the Byzantine Empire to the Italian Renaissance.
Larry Gonick's celebrated series
The Cartoon History of the Universe
is a unique fusion of world history and the comics medium, a work of serious scholarship and a masterpiece of popular literature. Praised by Jonathan Spence in the
New York Times Book Review
as "a curious hybrid, at once flippant and scholarly, witty and politically correct, zany and traditionalist," Gonick's clever illustrations deliver important information with a deceptively light tone, teaching us about the people and events that have shaped our world. This long-awaited new volume covers the Middle Ages around the globe, including the multicultural Middle East, West Africa and the cross-Saharan trade, Central Asia and the Byzantine Empire, the European Dark Ages and the Crusades, the Mongol conquests, the Black Death, the Ottoman Empire, the Italian Renaissance, and the rise of Spain, leading up to Columbus's departure for the new world. Gonick offers an historical survey that is at once multicultural, humanistic, skeptical, and laugh-out-loud funny.
Praise For The Cartoon History of the Universe III: From the Rise of Arabia to the Renaissance…
Brilliantly rendered and unexpectedly timely.... Will reading an erudite, if flat-out hilarious, account of Middle East history helps us make sense of our current clash of cultures? Let's put it this way; ignorance hasn't worked.
— Garry Trudeau, creator of Doonesbury

A masterpiece! A must for every animated reader!
— Steve Martin, actor and writer

Each new volume of Larry Gonick's epic and irreverent rendition of history is informative, funny, and a triumph of the cartoonist's craft—in other words, cause for celebration.
— Charles Johnson, National Book Award-winning author of Middle Passage

A brilliant application of the cartoon medium—wedding learning with fun. Bravo!
— Will Eisner, creator of The Spirit, A Contract with God, and The Dreamer
W. W. Norton & Company, 9780393324037, 320pp.
Publication Date: October 17, 2002
About the Author
Larry Gonick is a professional cartoonist and author of The Cartoon History of the Universe series, among other illustrated books. He lives in San Francisco, California.