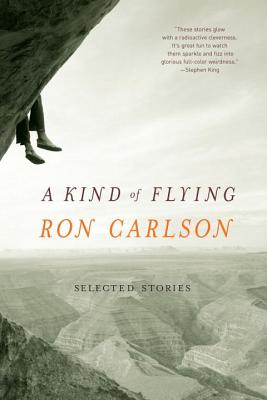 A Kind of Flying
Selected Stories
Paperback

* Individual store prices may vary.
Description
"These stories are full of surprises, jolts, and lightning strikes of recognition. Do yourself a favor and read Ron Carlson." —Stephen King
Ron Carlson's stories, sometimes wicked or bittersweet, often zany, are rich with a hard-earned hopefulness frequently absent in contemporary fiction. In this generous gathering from collections no longer available, longtime fans and new readers alike can savor the development of a master of idiosyncrasy.
Properly celebrated for his range, Carlson offers us a rural sheriff who's wary of UFOs ("Phenomena"), a lawyer on a mission in remote Alaska ("Blazo"), a baseball player turned killer-by-accident ("Zanduce at Second"), and a nineteen-year-old who experiences an unsettling sexual awakening during an Arizona summer ("Oxygen"). Here also is a man accusing Bigfoot of stealing his wife, followed by Bigfoot's incomparable response. Not least of the treasures is "The H Street Sledding Record," a story perfect for family holiday reading, in which a young father creates the magic of Santa by throwing manure on his roof on Christmas Eve.
This book proves Carlson's axiom that "a short story is not a single thing done a single way," and it offers us—finally—a full view of his remarkable talents.
Praise For A Kind of Flying: Selected Stories…
Ron Carlson is doing something unique. He's writing the chronicle, not of our losses, but of our quirky, unreliable potential for grace.
— Michael Cunningham

Ron Carlson's characters embrace a sophisticated, earthy, heroic morality. They are the fellows you hope will teach your children, marry your sisters, tell you stories.
— Antonya Nelson

I was entirely and happily in Carlson's thrall. The word 'happily' seems especially apt for this writer, who is a master of that rarity in contemporary fiction, the happy ending.
— Margot Livesey - New York Times Book Review
W. W. Norton & Company, 9780393324792, 466pp.
Publication Date: October 17, 2003
About the Author
Ron Carlson teaches creative writing at Arizona State and lives in Scottsdale. His stories, much anthologized, have appeared in The New Yorker, Harper's, Esquire, Playboy, and other magazines.