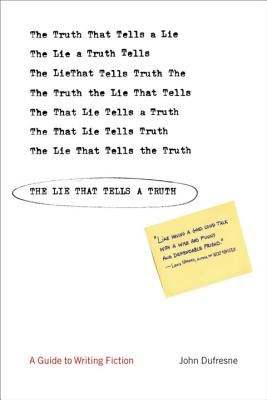 The Lie That Tells a Truth (Paperback)
A Guide to Writing Fiction
W. W. Norton & Company, 9780393325812, 320pp.
Publication Date: August 17, 2004
* Individual store prices may vary.
Description
"This is the most practical, hard-nosed, generous, direct, and useful guide to writing fiction." —Brad Watson
Finally, a truly creative—and hilarious—guide to creative writing, full of encouragement and sound advice. Provocative and reassuring, nurturing and wise, The Lie That Tells a Truth is essential to writers in general, fiction writers in particular, beginning writers, serious writers, and anyone facing a blank page.
John Dufresne, teacher and the acclaimed author of Love Warps the Mind a Little and Deep in the Shade of Paradise, demystifies the writing process. Drawing upon the wisdom of literature's great craftsmen, Dufresne's lucid essays and diverse exercises initiate the reader into the tools, processes, and techniques of writing: inventing compelling characters, developing a voice, creating a sense of place, editing your own words. Where do great ideas come from? How do we recognize them? How can language capture them? In his signature comic voice, Dufresne answers these questions and more in chapters such as "Writing Around the Block," "Plottery," and "The Art of Abbreviation." Dufresne demystifies the writing process, showing that while the idea of writing may be overwhelming, the act of writing is simplicity itself.
About the Author
John Dufresne is the author of eleven previous books, including three fiction writing guides. A professor in the MFA program at Florida International University, he lives in Dania Beach.
Praise For The Lie That Tells a Truth: A Guide to Writing Fiction…
Finally, a truly creative—and hilarious—guide to creative writing, full of encouragement and sound advice. Provocative and reassuring, nurturing and wise, The Lie That Tells a Truth is essential to writers in general, fiction writers in particular, beginning writers, serious writers, and anyone facing a blank page.

— Nikki Vanry

Frank and friendly talk about the approach to and the craft of fiction…a welcome companion.
— Ron Carlson

Dufresne makes it all good fun, from first to last, from guggle to zatch. See for yourself.
— George Garrett

An engaging covers-all-the bases guide—sometimes moving, often funny, full of goodwill and good sense.
— Janet Burroway