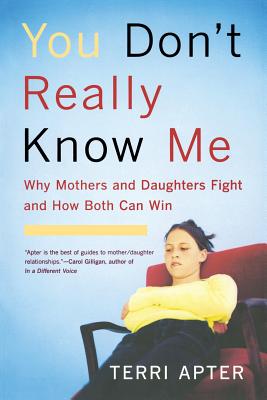 You Don't Really Know Me (Paperback)
Why Mothers and Daughters Fight and How Both Can Win
W. W. Norton & Company, 9780393327106, 256pp.
Publication Date: August 17, 2005
* Individual store prices may vary.
Description
Understand what your teenage daughter really means—and learn to use your arguments to strengthen your bond with her.
Mothers and teenage daughters argue more than any other child-parent pair—on average every two-and-a-half days. These quarrels, Terri Apter shows, are attempts to negotiate changes in a relationship that is valued by both mothers and daughters. A daughter often feels her mother doesn't know or understand her, and by fighting hopes to force her mother into a new awareness of who she really is, how she has changed, and what she is now capable of doing and understanding. But mothers often misinterpret their daughter's outbursts as signs of rejection, and they may pull back feeling hurt and confused. Through case studies and conversations between mothers and daughters, Apter shows mothers how to interpret the meanings behind a daughter's angry words and how to emerge from arguments with a new closeness.
About the Author
Terri Apter is a writer, psychologist, and retired Fellow of Newnham College, Cambridge. Her nine books include The Sister Knot and What Do You Want from Me? She lives in Cambridge, England.
Praise For You Don't Really Know Me: Why Mothers and Daughters Fight and How Both Can Win…
Why do mothers and daughters argue? What is usually at the core? Can the battling ever really stop? The author unswervingly answers such questions, drawing on 20 years of research…While there are many such studies on the market, this one rises above the crop, owing to Apter's thoughtfulness and her firsthand experience as a mother.
— Mirela Roncevic

I wish that when I was going through the wringer I'd had access to You Don't Really Know Me. This is both a balm for my salvaged feelings and a useful compass in this maze.

— Marina Cantacuzino

[Apter] vividly captures the intensely passionate negotiations that go into the mother-teenage daughter relationship and weighs in with some very wise, usable insights and suggestions for the mother that enable her to see things from her daughter's perspective.
— Nancy J. Chodorow, psychoanalyst and author of The Reproduction of Mothering

All teenage daughters should read this book!…The ideas will provide insight into who they are, who they want to be, and what their relationship with their mother is like. I wish I'd read it then!
— Rachel Chodorow-Reich, daughter of Nancy J. Chodrorow

Mothers of teenage and even pre-teen daughters simply must read Terri Apter's immensely helpful new book. By showing how a daughter's fights with us actually reflect her efforts to stay connected, Apter recasts our frequent dustups into potential bridges to each other. She offers mothers the tools to transform relationships with their daughters during the teen years and to lay the foundation for a healthy bond into adulthood.
— Marla Paul, author of The Friendship Crisis

This is eminently sensible advice that may contribute to sending more women out into the world sure of their ability to shape their own future and confident of having their views heard.