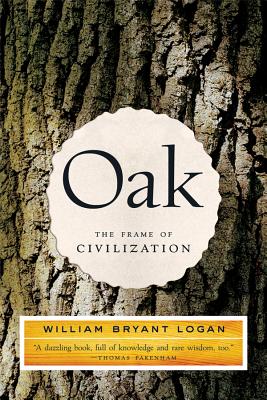 Oak (Paperback)
The Frame of Civilization
W. W. Norton & Company, 9780393327786, 336pp.
Publication Date: July 17, 2006
* Individual store prices may vary.
Description
"A dazzling book, full of knowledge and rare wisdom, too" —Thomas Pakenham, author of Remarkable Trees of the World
Professional arborist and award-winning nature writer William Bryant Logan deftly relates the delightful history of the reciprocal relationship between humans and oak trees since time immemorial. For centuries these supremely adaptable, generous trees have supported humankind in nearly every facet of life. From the ink of Bach's cantatas to the first boat to reach the New World, the wagon, the barrel, and the sword, oak trees have been a constant presence in our past. Yet we've largely forgotten the oak's role in civilization. With reverence, humor, and compassion, Logan awakens us to the vibrant presence of the oak throughout our history and in today's world.
About the Author
William Bryant Logan is a practicing arborist and the author of four acclaimed books on nature: Sprout Lands, Dirt, Oak, and Air. He is on the faculty of the New York Botanical Garden and lives in Brooklyn, New York.
Praise For Oak: The Frame of Civilization…
Logan's beautiful treatment opened my eyes to how much human experience on this planet has depended on the single (albeit wonderfully varied) genus Quercus.

— Richard Powers

Passion is never boring…[Logan's] affection and admiration for the oak tree are so persuasive that the next time you see one you might be inspired to kneel before it in recognition of its sprawling contributions to mankind.

Any student of history or lover of the woods will enjoy discovering the many contributions that this tree has made. Readers will have plenty to think about next time they pass under a canopy of these amazing trees.

Human civilization, from its very inception, has been intertwined with the evolution of the oak. From the scientific and practical to the philosophical and spiritual, Logan amazes readers with the connections between Homo and Quercus.

— Carl Keeler

Certified arborist and nature writer William Bryant Logan has brought a literary voice to the story of the mighty oak. This wonderful history is written in a storyteller's voice.
— Debra Prinzing

Oak has plenty to teach us…In his own way, Logan is restoring knowledge that disappeared, and in the end it is his passion for the trees themselves that makes this book remarkable.

— Anthony Doerr

Logan is a gentle ecologist, and paints an enthralling picture of the cooperative business going on underground.
— Richard Mabey

Oak trees have participated in a surprising swath of human history, and now they have finally been recognized for it. William Logan's Oak is an utterly fascinating story and, in a strange way, a humbling one.

— John Berendt, author of Midnight in the Garden of Good and Evil