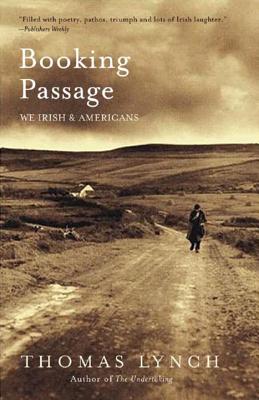 Booking Passage
We Irish and Americans
Paperback

* Individual store prices may vary.
Description
"A good read even for those who have not the least ancestral or national bias—for those who desire civilized entertainment along with brilliant narrative." —Seattle Times
In thirty-five years and dozens of return trips to Ireland, Thomas Lynch has found a template for the larger world inside the small one, the planet in the local parish. Part memoir, part cultural study, Booking Passage is a brilliant, often comedic guidebook for those "fellow travelers, fellow pilgrims" making their way through the complexities of their own lives and times.
Praise For Booking Passage: We Irish and Americans…
He's no mere tourist but a man who's made a deep personal commitment to the land from which his forebears came and who has a sensitive, nuanced understanding of the place and its people…It's a lovely book.
— Jonathan Yardley - Washington Post

[Lynch] draws an enticing picture of his home away from home: the dreamlike environs of Moveen, County Clare.
— Joseph O'Neill - New York Times Book Review

Those of us with Irish ancestry will find this an appealing account of family, faith, destiny, and why so many Americans wish they were Irish, too.
— Dan R. Barber - Dallas Morning News

A master of the contemplative amble…There is enough poetry in the writing of it, both in verse and in prose, that a reader cannot come away from it without knowing what Lynch is about…Hearing Lynch's story…one can gain wisdom for one's own journey, Irish or not.
— Marta Salij - Detroit Free Press

In Booking Passage, Thomas Lynch's 'romance with words,' realized as an altar boy responding in Latin, becomes a full-blown love affair in his prose about Ireland and fellow poets and what he thinks of the Church. His style has energy that takes my breath away it's so fresh and unexpected.

— Elmore Leonard

Thomas Lynch is one of our indispensable essayists, a master of skeptical realism and tragicomic relief. The true subject of this generous, rowdy book is Lynch's own wonderful mind, as it bobs and weaves, making connections between the personal and the tribal, history and the present moment, in language that is gorgeous and consistently apt.
— Phillip Lopate, author of Getting Personal and Waterfront: A Journey Around Manhattan

Thomas Lynch is an original…If there were more Thomas Lynches in the world, it might be a little less full of hatred and have a little more room in it.
— George Bornstein - Times Literary Supplement

The best writing in the book evolves from the sound of voices, from memory crammed into voice…[Booking Passage] becomes a layered hymn of gratitude to having family left on the other side…Spectacular.

— James Liddy - Irish Times
W. W. Norton & Company, 9780393328578, 342pp.
Publication Date: June 17, 2006
About the Author
Thomas Lynch's stories, poems, and essays have appeared in Granta, the Atlantic, Harper's, the New York Times, and elsewhere. His first collection of essays, The Undertaking, was a finalist for the National Book Award. Lynch lives in Milford, Michigan.