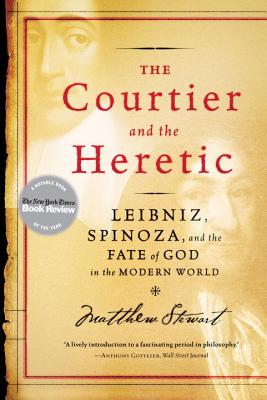 The Courtier and the Heretic
Leibniz, Spinoza, and the Fate of God in the Modern World
Paperback

* Individual store prices may vary.
Description
"Exhilarating…Stewart has achieved a near impossibility, creating a page-turner about jousting metaphysical ideas, casting thinkers as warriors." —Liesl Schillinger, New York Times Book Review
Once upon a time, philosophy was a dangerous business—and for no one more so than for Baruch Spinoza, the seventeenth-century philosopher vilified by theologians and political authorities everywhere as "the atheist Jew." As his inflammatory manuscripts circulated underground, Spinoza lived a humble existence in The Hague, grinding optical lenses to make ends meet. Meanwhile, in the glittering salons of Paris, Gottfried Wilhelm Leibniz was climbing the ladder of courtly success. In between trips to the opera and groundbreaking work in mathematics, philosophy, and jurisprudence, he took every opportunity to denounce Spinoza, relishing his self-appointed role as "God's attorney."
In this exquisitely written philosophical romance of attraction and repulsion, greed and virtue, religion and heresy, Matthew Stewart gives narrative form to an epic contest of ideas that shook the seventeenth century—and continues today.
Praise For The Courtier and the Heretic: Leibniz, Spinoza, and the Fate of God in the Modern World…
A lively introduction to a fascinating period in philosophy.
— Anthony Gottlieb - Wall Street Journal

[Stewart] lays the ground for a new genre: rigorous, readable intellectual history for the reader who would never buy a work of pure philosophy, but wants to know why people think the way they do.
— Economist

Elegant…Stewart's wit and graceful prose make this book a delightful read.
— Lisa Montanarelli - San Francisco Chronicle

Altogether excellent…His approach is au courant and quite convincing…He deserves a medal for avoiding jargon and opting instead for accessibility.
— Michael Weiss - New York Post

Stewart has discovered an appealing and novel way to write the history of ideas, and The Courtier and the Heretic is…an enlightening, absorbing study.

— Adam Kirsch - New York Sun

[A] colorful reinterpretation of the lives and works of 17th-century philosophers Spinoza and Leibniz…Stewart's wit and profluent prose make this book a fascinating read.
— Publishers Weekly (starred review)
W. W. Norton & Company, 9780393329179, 352pp.
Publication Date: January 17, 2007
About the Author
Matthew Stewart is the author of Nature's God: The Heretical Origins of the American Republic, The Courtier and the Heretic: Leibniz, Spinoza, and the Fate of God in the Modern World and The Management Myth: Debunking the Modern Philosophy of Business. He lives in Boston, Massachusetts.
or
Not Currently Available for Direct Purchase