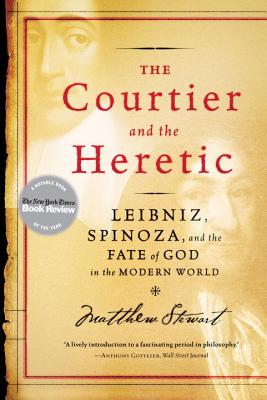 The Courtier and the Heretic (Paperback)
Leibniz, Spinoza, and the Fate of God in the Modern World
W. W. Norton & Company, 9780393329179, 352pp.
Publication Date: January 1, 2007
Other Editions of This Title:
Hardcover (1/1/2006)
Paperback (2/6/2007)
* Individual store prices may vary.
Description
Once upon a time, philosophy was a dangerous business--and for no one more so than for Baruch Spinoza, the seventeenth-century philosopher vilified by theologians and political authorities everywhere as "the atheist Jew." As his inflammatory manuscripts circulated underground, Spinoza lived a humble existence in The Hague, grinding optical lenses to make ends meet. Meanwhile, in the glittering salons of Paris, Gottfried Wilhelm Leibniz was climbing the ladder of courtly success. In between trips to the opera and groundbreaking work in mathematics, philosophy, and jurisprudence, he took every opportunity to denounce Spinoza, relishing his self-appointed role as "God's attorney."
In this exquisitely written philosophical romance of attraction and repulsion, greed and virtue, religion and heresy, Matthew Stewart gives narrative form to an epic contest of ideas that shook the seventeenth century--and continues today.