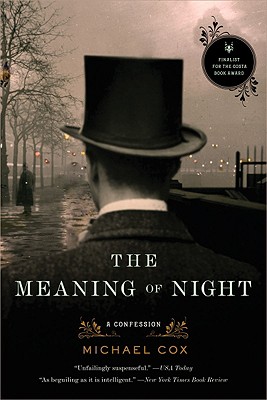 The Meaning of Night: A Confession (Paperback)
A Confession
W. W. Norton & Company, 9780393330342, 703pp.
Publication Date: October 17, 2007
* Individual store prices may vary.
or
Not Currently Available for Direct Purchase
Description
"After killing the red-haired man, I took myself off to Quinn's for an oyster supper." So begins the "enthralling" (Booklist, starred review) and "ingenious" (Boston Globe) story of Edward Glyver, booklover, scholar, and murderer. As a young boy, Glyver always believed he was destined for greatness. A chance discovery convinces him that he was right: greatness does await him, along with immense wealth and influence. Overwhelmed by his discovery, he will stop at nothing to win back a prize that he knows is rightfully his.
Glyver's path to reclaim his prize leads him from the depths of Victorian London, with its foggy streets, brothels, and opium dens, to Evenwood, one of England's most beautiful and enchanting country houses, and finally to a consuming love for the beautiful but enigmatic Emily Carteret. His is a story of betrayal and treachery, of death and delusion, of ruthless obsession and ambition. And at every turn, driving Glyver irresistibly onward, is his deadly rival: the poet-criminal Phoebus Rainsford Daunt.
The Meaning of Night is an enthralling novel that will captivate readers right up to its final thrilling revelation.
"After killing the red-haired man, I took myself off to Quinn's for an oyster supper."

The first line unexpectedly introduces Edward Glyver as a murderer. In some ways he is an unlikely hero. How quickly does the reader begin to support him? Is it sympathy, admiration or something else that first causes the reader to support this character?
"For Death is the meaning of night
The eternal shadow
Into which all lives must fall
All hopes expire"
P. Rainsford Daunt, From the Persian

What is the significance of the book's title?
What does the role of the editor, J.J. Antrobus, add to the book?
Four hundred eighty seven members of the public read early copies of The Meaning of Night as part of a BML market research project. When asked "Which other authors or other works of fiction would you compare The Meaning of Night to?", the most popular answers were Charles Dickens and Fingersmith by Sarah Waters.

Do you agree with these answers? Do you feel Charles Dickens and Fingersmith were the most popular answers because of similarities in historical setting, geographical setting, characterisation, language, plot themes or something else?
"I think much of her – I mean my mother – and how alike we were."

How are Glyver and his mother Laura Duport similar? Do you think her actions were justifiable?
In an interview the author Michael Cox said, "Evenwood, the ravishingly beautiful country house, is a symbol of Glyver's ultimately forlorn hopes." Which hope in particular do you think Evenwood symbolizes? Is it merely materialistic? What is it about Evenwood that Glyver is prepared to kill for?
The chapter in which Le Grice gives Glyver a book of Daunt's poetry dedicated to "E.G." is entitled "Amicus Verus" – a true friend. Is Le Grice Glyver's truest friend? Is there a character with whom Glyver has a stronger bond, even if their relationship does not survive the book?
"I killed him, but in doing so, I killed the best part of myself." Which characters receive appropriate punishments and which do not? Were you satisfied with the book's ending?
Advertisement