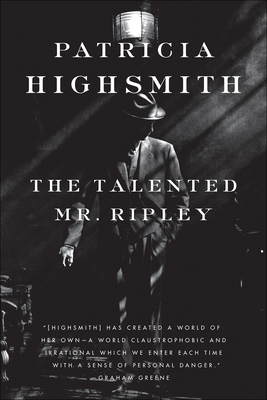 The Talented Mr. Ripley
Paperback

* Individual store prices may vary.
Other Editions of This Title:
Paperback (12/1/2006)
MP3 CD (1/24/2017)
Paperback (9/1/1992)
Audio Cassette (12/14/1999)
Paperback (8/1/1999)
Compact Disc (11/2/2018)
Paperback (7/1/2010)
Audio Cassette (5/1/2001)
Description
"Tom Ripley is one of the most interesting characters in world literature." —Anthony Minghella, director of the 1999 film The Talented Mr. Ripley
Since his debut in 1955, Tom Ripley has evolved into the ultimate bad boy sociopath. Here, in the first Ripley novel, we are introduced to suave Tom Ripley, a young striver, newly arrived in the heady world of Manhattan. A product of a broken home, branded a "sissy" by his dismissive Aunt Dottie, Ripley meets a wealthy industrialist who hires him to bring his playboy son, Dickie Greenleaf, back from gallivanting in Italy. Soon Ripley's fascination with Dickie's debonair lifestyle turns obsessive as he finds himself enraged by Dickie's ambivalent affections for Marge, a charming American dilettante. A dark reworking of Henry James's The Ambassadors, The Talented Mr. Ripley serves as an unforgettable introduction to this smooth confidence man, whose talent for murder and self-invention is chronicled in four subsequent Ripley novels.
Praise For The Talented Mr. Ripley…
In the same way that Vince Gilligan made Breaking Bad's Walter White an awful person that I took a guilty pleasure in rooting for, Highsmith made the detestable Tom Ripley an intriguing character that I hoped would get away with his crimes.

— Mark Frauenfelder

The brilliance of Highsmith's conception of Tom Ripley was her ability to keep the heroic and demonic American dreamer in balance in the same protagonist—thus keeping us on his side well after his behavior becomes far more sociopathic than that of a con man like Gatsby.
— Frank Rich

[Highsmith] forces us to re-evaluate the lines between reason and madness, normal and abnormal, while goading us into sharing her treacherous hero's point of view.
— Michiko Kakutani

Mesmerizing...a Ripley novel is not to be safely recommended to the weak-minded or impressionable.

The most sinister and strangely alluring quintet the crime-fiction genre has ever produced.
— Mark Harris

[Highsmith] has created a world of her own—a world claustrophobic and irrational which we enter each time with a sense of personal danger.
— Graham Greene

[Tom Ripley] is as appalling a protagonist as any mystery writer has ever created.

Murder, in Patricia Highsmith's hands, is made to occur almost as casually as the bumping of a fender or a bout of food poisoning. This downplaying of the dramatic... has been much praised, as has the ordinariness of the details with which she depicts the daily lives and mental processes of her psychopaths. Both undoubtedly contribute to the domestication of crime in her fiction, thereby implicating the reader further in the sordid fantasy that is being worked out.
— Robert Towers

Savage in the way of Rabelais or Swift.
— Joyce Carol Oates

For eliciting the menace that lurks in familiar surroundings, there's no one like Patricia Highsmith.

Highsmith's subversive touch is in making the reader complicit with Ripley's cold logic.
W. W. Norton & Company, 9780393332148, 288pp.
Publication Date: June 17, 2008
About the Author
Patricia Highsmith (1921–1995) was the author of more than twenty novels, including Strangers on a Train, The Price of Salt, and The Talented Mr. Ripley, as well as numerous short stories.