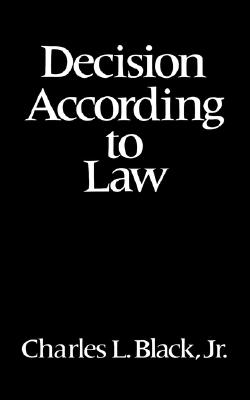 Decision According to Law
Paperback

* Individual store prices may vary.
Description
The power of the courts, and especially of the Supreme Court, is very great in our political system. This power is justified by the public on the ground that the courts decide cases "according to law." On the other hand, much modern thought about law tends to suggest that the concept of "decision according to law" is elusive.
In this book, Charles L. Black Jr., Sterling Professor of Law at Yale Law School, explores and illustrates the extent to which "decision according to law" can be understood and attained in our times and with our insights. Professor Black concludes that, while "decision according to law" cannot, in any simple sense, now be wholly understood or attained, it is too important a concept to be given up.
The text of this book consists of the Oliver Wendell Holmes Lectures which Professor Black delivered at the Harvard Law School.
Charles Black was the author of several previous books including Capital Punishment: The Inevitability of Caprice and Mistake, published by Norton. Professor Black lived in New Haven, Connecticut.
W. W. Norton & Company, 9780393332308
Publication Date: June 17, 1981