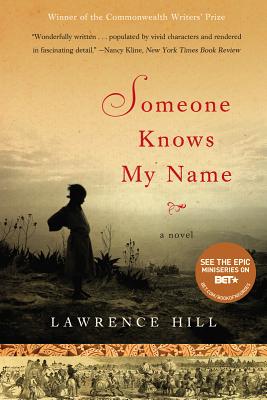 Someone Knows My Name
A Novel
Paperback

* Individual store prices may vary.
Other Editions of This Title:
Digital Audiobook (12/3/2007)
Hardcover (11/17/2007)
Description
Winner of the Commonwealth Writers' Prize. "Wonderfully written...populated by vivid characters and rendered in fascinating detail." —Nancy Kline, New York Times Book Review
Kidnapped from Africa as a child, Aminata Diallo is enslaved in South Carolina but escapes during the chaos of the Revolutionary War. In Manhattan she becomes a scribe for the British, recording the names of blacks who have served the King and earned their freedom in Nova Scotia. But the hardship and prejudice of the new colony prompt her to follow her heart back to Africa, then on to London, where she bears witness to the injustices of slavery and its toll on her life and a whole people. It is a story that no listener, and no reader, will ever forget.
Published in Canada as The Book of Negroes and the basis for the award-winning BET miniseries of the same name.
Praise For Someone Knows My Name: A Novel…
Hill's depiction of [Aminata's] journey to freedom is a powerful tale of pride and perseverance.
— Sara Nelson - Oprah.com

A masterpiece, daring and impressive in its geographic, historical and human reach.
— Globe and Mail

Lawrence Hill's hugely impressive historical work is completely engrossing and deserves a wide, international readership.
— Delia Jarrett-Macauley - Washington Post

With grace and compassion, Hill populates true and harrowing experience with an authentic hero—just as good historical fiction requires.
— Jennifer Berman - Bookforum

Astonishing in scope, humanity and beauty, this is one of those very rare novels in which the deep joy of reading transcends its time and place. Like To Kill a Mockingbird, Someone Knows My Name lets readers experience a life, one footstep at a time, beside an unforgettable protagonist.

— Eileen Charbonneau - Historical Novels Review

Stunning, wrenching and inspiring.... Hill handles the pacing and tension masterfully... [his] book is a harrowing, breathing tour de force.
— Publishers Weekly, starred review
W. W. Norton & Company, 9780393333091, 512pp.
Publication Date: November 17, 2008
About the Author
Lawrence Hill is the author of several novels including Someone Knows My Name, which won the Commonwealth Writers' Prize and the Rogers Writers' Trust Fiction Prize and was nominated in the United States for the Huston Wright Legacy Award. In 2015 Hill was appointed to the Order of Canada "for his contributions as an author and activist who tells the stories of Canada's black community and of women and girls in Africa." A graduate of the Writing Seminars at The Johns Hopkins University in Baltimore, he lives in Ontario, Canada.
What is the significance of the title Someone Knows My Name?
What is your opinion about Hill's suggestion that Aminata's very youthfulness at the time of her abduction enables her emotional survival, even as some of the adults in her world show signs of crumbling?
The section of the book set in the sea islands of South Carolina depicts eighteenth-century indigo plantations where African American slaves and overseers are left largely to their own devices during the "sick season"—a good half of the year. To what degree does this cultural and social isolation allow for an interesting development and interaction of African American characters in the novel?
Aminata suffers some horrifying cruelties at the hands of her captors, but her relationships with her masters aren't always what you'd expect. How does Aminata's story reveal the complex ways that people react to unnatural, unequal relationships?
During the course of the story, Aminata marries and has a family. Although she is separated from them, she is reunited from time to time with her husband and one of her children. What does the work tell us about the nature of love and loyalty?
Aminata struggles to learn and master all sorts of systems of communicating in the new world: black English, white English, and Gullah, as well as understanding the uses of European money and maps. How do her various coping mechanisms shed light on her character?
Aminata longs for her home. What is the meaning of home in the novel, and how does the meaning change as the novel progresses?
What does the novel tell us about survival? Which characters fare best and why?
As Aminata moves from slavery to freedom, she finds that freedom is sometimes an empty promise. At what points in the novel did you feel this was true? Did it change how you thought about the meaning of freedom?
Aminata is a woman of extraordinary abilities—she is skillful with languages, literate, a speedy learner, a born negotiator. Why did Hill choose this story to be told by such a remarkable woman? What effect do her abilities have on the shaping of the story?
What do you think would be the challenges involved in writing a realistically painful novel that still offers enough light and hope to maintain the reader's interest and spirit?
What lessons does Aminata's tale hold for us in today's world?