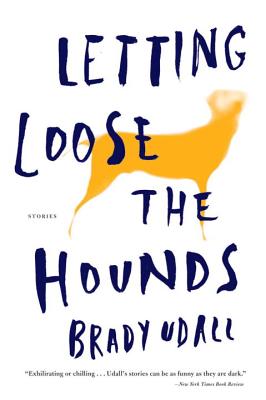 Letting Loose the Hounds
Stories
Paperback

* Individual store prices may vary.
Other Editions of This Title:
Paperback (1/1/1998)
Description
"Funny, unpredictable, and abounding with strange beauty . . . a fierce new voice of the American West."—Outside
Exploding with an unsettling exuberance, Brady Udall's stories traverse a geography of lost love, fragmented lives, and satisfying revenge. From the night a six-foot-three Apache Indian holding a goat steps into a moonlit Arizona backyard in "Midnight Raid" to the pivotal moment when a man, delirious from a dental extraction, gets rescued by a stranger in the title story, Udall injects his stories and characters with equal parts darkness and humor. These are sad and sweet stories, moving from the familiar to surprising destinations. But even when disaster looms, Udall's fine comic sense sustains his men and women in their sometimes extravagant efforts to connect and cope. Plunged in the moment, these stories have velocity; they spray gravel as they take off.
Praise For Letting Loose the Hounds: Stories…
Exhilarating or chilling… Udall's stories can be as funny as they are dark.
— Jim Shepard - The New York Times Book Review

Bittersweet....memorable....Udall breathes fresh life into tales of the modern West.
— Library Journal

Funny, unpredictable, and abounding with strange beauty.
— Outside Magazine

Udall's West emerges as a place of passion and despair without the mythic overtones of gunslingers and Marlboro men. It is a place filled with as much laughter as tears, and a place that I hope we hear from again quite soon.
— Michael A. Elliott - Boston Book Review

An irresistible performance.
— Judith Freeman, author of Red Water

One of the top writers of his generation.… Brady Udall's stories, full of comedy and pain and trouble, carry a mighty kick.
— Thom Jones, author of The Pugilist at Rest

Brady Udall works with a whole lot of grace and an exquisite eye for detail. His characters find redemption in the utterly surprising places we suspected it lurked all along.
— Pam Houston, author of Cowboys Are My Weakness

There is a wonderful innocence in Udall's narrative voice, a risk and edge to these stories that make for delightful reading.… Letting Loose the Hounds has a great deal of meat to it, nothing sliced thin and served on a bed of watercress.… Always under the surface, there is a raised eyebrow, a bit of laughter, and the wildness of a writer who understands his backyard and plays by his own rules.

— Jeff Metcalf - Bloomsbury Review

A gritty debut.… Udall articulates the sorrow and humor of his characters' situations so well that their bellowing displays of bravado provide a catharsis.
— Publishers Weekly

Brady Udall must have a wild and lonely heart. Nothing scares him, not emptiness or fallen hopes or silence, not the unsparing and fractured geography out there in the new American West.
— John Dufresne, author of Louisiana Power and Light and Love Warps the Mind a Little

Anybody who is very funny and writes, with love and a full heart, about goats, Whoppers, plastic deer, Mormons basketball, and nervous system disorders has got what it takes. Brady Udall has got what it takes, and thank goodness it doesn't break his heart to give it away.
— Clyde Edgerton, author of The Bible Salesman

Individually, Brady Udall's stories are exciting, hilarious, gripping, and usually a bit sad. Collectively, they make a work of great power, one that illuminates the usually darkened corners of the male character.
— Pinckney Benedict, author of Dogs of God
W. W. Norton & Company, 9780393335545, 224pp.
Publication Date: April 5, 2010
About the Author
Brady Udall is the author of New York Times bestseller The Lonely Polygamist, The Miracle Life of Edgar Mint, and Letting Loose the Hounds. He teaches at Boise State University and lives in Boise, Idaho, with his wife and children.
or
Not Currently Available for Direct Purchase