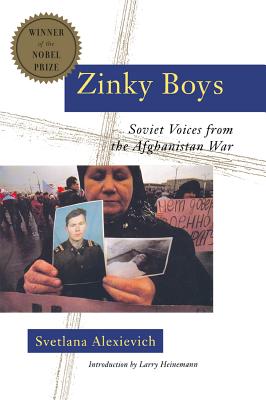 Zinky Boys (Paperback)
Soviet Voices from the Afghanistan War
W. W. Norton & Company, 9780393336863, 224pp.
Publication Date: September 30, 1992
Other Editions of This Title:
Paperback, Chinese (8/1/2014)
MP3 CD (9/20/2016)
* Individual store prices may vary.
Description
From 1979 to 1989 a million Soviet troops engaged in a devastating war in Afghanistan that claimed 50,000 casualties - and the youth and humanity of many tens of thousands more. In Zinky Boys journalist Svetlana Alexievich gives voice to the tragic history of the Afghanistan War. What emerges is a story that is shocking in its brutality and revelatory in its similarities to the American experience in Vietnam - a resemblance that Larry Heinemann describes movingly in his introduction to the book, providing American readers with an often uncomfortably intimate connection to a war that may have seemed very remote to us. The Soviet dead were shipped back in sealed zinc coffins (hence the term "Zinky Boys"), while the state denied the very existence of the conflict; even today the radically altered Soviet society continues to reject the memory of the "Soviet Vietnam". Creating controversy and outrage when it was first published in the USSR - it was called by reviewers there a "slanderous piece of fantasy" and part of a "hysterical chorus of malign attacks" - Zinky Boys presents the candid and affecting testimony of the officers and grunts, nurses and prostitutes, mothers, sons, and daughters who describe the war and its lasting effects. Svetlana Alexievich has snatched from the memory hole the truth of the Afghanistan War: the beauty of the country and the savage Army bullying, the killing and the mutilation, the profusion of Western goods, the shame and shattered lives of returned veterans. Zinky Boys offers a unique, harrowing, and unforgettably powerful insight into the realities of war and the turbulence of Soviet life today.
Praise For Zinky Boys: Soviet Voices from the Afghanistan War…
[Alexievich s] voice is much more than the sum of [her subject s] voices . . . [making] that war as all-encompassingly present and personal as real as any fictional account ever did for any other war.--Philip Gourevitch"

For the past 30 or 40 years [Alexievich has] been busy mapping the Soviet and post-Soviet individual, but [her work is] not really about a history of events. It s a history of emotions what she s offering us is really an emotional world, . . . a history of the soul.--Sara Danius, Permanent Secretary of the Swedish Academy"

A masterpiece of reportage, probably her best book.--Timothy Snyder