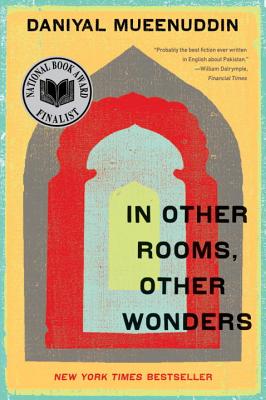 In Other Rooms, Other Wonders (Paperback)
W. W. Norton & Company, 9780393337204, 256pp.
Publication Date: November 16, 2009
Other Editions of This Title:
Hardcover (2/1/2009)
* Individual store prices may vary.
Description
Winner of the Story Prize

Finalist for the Pulitzer Prize

Finalist for the National Book Award

Finalist for the Los Angeles Times Art Seidenbaum Award for First Fiction
Passing from the mannered drawing rooms of Pakistan's cities to the harsh mud villages beyond, Daniyal Mueenuddin's linked stories describe the interwoven lives of an aging feudal landowner, his servants and managers, and his extended family, industrialists who have lost touch with the land. Refined, sensuous, by turns humorous, elegiac, and tragic, Mueenuddin evokes the complexities of the Pakistani feudal order as it is undermined and transformed.
About the Author
Daniyal Mueenuddin was brought up in Lahore, Pakistan and Elroy, Wisconsin. A graduate of Dartmouth College and Yale Law School, his stories have appeared in The New Yorker, Granta, Zoetrope, The Best American Short Stories 2008, selected by Salman Rushdie, and PEN/O. Henry Prize Stories 2010. For a number of years he practiced law in New York. He now lives on a farm in Pakistan's southern Punjab.
Praise For In Other Rooms, Other Wonders…
Reading Daniyal Mueenuddin's mesmerizing first collection is like watching a game of blackjack, the shrewd players calculating their way beyond their dealt cards in an attempt to beat the dealer…In this labyrinth of power games and exploits, Mueenuddin instills luminous glimmers of longing, loss and, most movingly, unfettered love.

In Other Rooms, Other Wonders is a collection full of pleasures…on every page there are wonderful, surprising observations and details.


The eight short stories of Daniyal Mueenuddin's enchanting debut are dreamlike, illuminating contemporary Pakistan's societal contradictions in prose as clear and serene as the contradictions themselves are subtle and tumultuous.

Like Turgenev…Mueenuddin has an eye for the tragedy and beauty in lives that a lesser writer might regard merely as miserable or eccentric…In recent years, Pakistan has been regarded in the West with anger and horror. Perhaps Mueenuddin's portrait will help to bring it a different kind of attention, colored with sorrow and even fondness.

Remarkable.… a poignant picture of Punjabi life.

[Mueenuddin's] crisp, vivid voice glides effortlessly into his various characters' heads.… Dark stuff, but full of beauty.

An elegant stylist with a light touch, Mueenuddin invites the reader to a richly human, wondrous experience.

Daniyal Mueenuddin takes us into a sumptuously created world, peopled with characters who are both irresistible and compellingly human. His stories unfold with the authenticity and resolute momentum of timeless classics.

— Manil Suri

A stunning achievement. This superb collection ranges across a vast swath of contemporary Pakistan—from megacities to isolated villages, from feudal landlords to servant girls—and such is its narrative power that I couldn't stop turning the page. Daniyal Mueenuddin is a writer of enormous ambition, and he has the prodigious talent to match.
— Mohsin Hamid

Daniyal Mueenuddin's Pakistanis are like Chekhov's Russians, so fully realized that we never wonder over what motivates them. They are living, breathing presences—sometimes brought so close that, I daresay, you hear the sounds of their breathing and the roll of gravel under their feet. In Other Rooms, Other Wonders brings us a new way of seeing the world, and it is one that we could not have anticipated.

— Elizabeth Evans, author of Carter Clay
Coverage from NPR