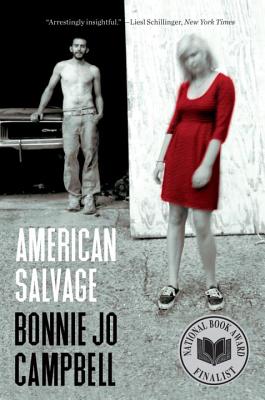 American Salvage
Paperback

* Individual store prices may vary.
Other Editions of This Title:
Digital Audiobook (5/20/2010)
Hardcover (1/4/2010)
Description
Finalist for the 2009 National Book Award in Fiction

Finalist for the 2009 National Book Critics Circle Award in Fiction

"These short stories approach their subjects from an array of perspectives, but what they share is freshness, surprise, and a compulsion to plumb some absolute extremes of American existence."—National Book Award citation
American Salvage is rich with local color and peopled with rural characters who love and hate extravagantly. They know how to fix cars and washing machines, how to shoot and clean game, and how to cook up methamphetamine, but they have not figured out how to prosper in the twenty-first century. Through the complex inner lives of working-class characters, Bonnie Jo Campbell illustrates the desperation of post-industrial America, where wildlife, jobs, and whole ways of life go extinct and the people have no choice but to live off what is left behind.
Praise For American Salvage…
Campbell's an American voice—two parts healthy fear, one part awe, one part irony, one part realism.
— Los Angeles Times

In these stories about cold, lonely, meth-drenched, working-class Michigan life, there's a certain beauty reaching something like the sublimity of a D. H. Lawrence story.
— Chicago Tribune

Starred Review. These fine-tuned stories are shaped by stealthy wit, stunning turns of events, and breath-taking insights. Campbell's busted-broke, damaged, and discarded people are rich in longing, valor, forgiveness and love, and readers themselves will feel salvaged and transformed by the gutsy book's fierce compassion.
— Booklist

American Salvage is not a book for the cowardly. These daring stories, these desperate characters, would just as soon steal your wallet, break your heart or punch you in the gut than openly admit that redemption is possible during these dark times. But it is just this improbable hope that makes her work brilliant. This is Bonnie Jo Campbell at her bravest and best.

— Rachael Perry, author of How to Fly

At their best these stories reflect what Robert Lowell refers to as 'the grace of accuracy,' which might simply be a way of saying that the voice overall convinces at every turn. By voice I mean personality, and these quirky, surprising, sometimes arcane and visceral and big-hearted stories resonate in ways that keep me nodding. . . . I love the risk of each story and how, in the midst of hilarity, a much more serious concern unfolds so that I'd find myself both laughing out loud and squeezing my heart dry simultaneously.
— Jack Driscoll, author of How Like an Angel

The effect of American Salvage is that Campbell's Michigan lingers and cannot be ignored or forgotten.

— Chicago Literary Scene Examiner

'Beware ye who enter here,' and yet you should and must because the work is so fine and truthful and deeply human, And you will surely know yourself and your world better for having come.
— Small Press Review

A strong collection. The pieces are rich in original detail, and highly atmospheric, while maintaining a satisfying sense of familiar territory, local voices.
— Laura Kasischke, author of The Life before Her Eyes
W. W. Norton & Company, 9780393339192, 192pp.
Publication Date: December 14, 2009
About the Author
Bonnie Jo Campbell teaches in the low-residency MFA program at Pacific University. The author of Once Upon a River, American Salvage, and Mothers, Tell Your Daughters, she lives in Kalamazoo, Michigan.