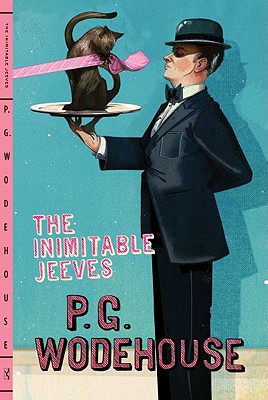 The Inimitable Jeeves
Paperback

* Individual store prices may vary.
Other Editions of This Title:
Paperback (11/27/2020)
Paperback (12/20/2019)
Paperback (5/26/2020)
Paperback (4/12/2021)
Paperback (1/27/2017)
Paperback (4/18/2020)
Paperback (6/16/2019)
Paperback (5/30/1923)
Paperback (6/18/2019)
Paperback (5/17/1923)
Paperback (8/17/2019)
Hardcover (5/17/1923)
Hardcover (3/4/2020)
Paperback (3/4/2020)
Paperback (5/22/2019)
Paperback (9/15/2019)
Hardcover (5/10/2007)
Description
"To dive into a Wodehouse novel is to swim in some of the most elegantly turned phrases in the English language."—Ben Schott
Follow the adventures of Bertie Wooster and his gentleman's gentleman, Jeeves, in this stunning new edition of one of the greatest comic short story collections in the English language. This classic collection of linked stories feature some of the funniest episodes in the life of Bertie Wooster, gentleman, and Jeeves, his gentleman's gentleman—in which Bertie's terrifying Aunt Agatha stalks the pages, seeking whom she may devour, while Bertie's friend Bingo Little falls in love with seven different girls in succession (he marries the last, bestselling romantic novelist Rosie M. Banks). And Bertie, with Jeeves's help, just evades the clutches of the terrifying Honoria Glossop. At its heart is one of Wodehouse's most delicious stories and a comic masterpiece, "The Great Sermon Handicap."
W. W. Norton & Company, 9780393339802, 240pp.
Publication Date: July 5, 2011
About the Author
P. G. Wodehouse was born in England in 1881 and in 1955 became an American citizen. He published more than ninety books and had a successful career writing lyrics and musicals in collaboration with Jerome Kern, Guy Bolton, and Cole Porter, among others.