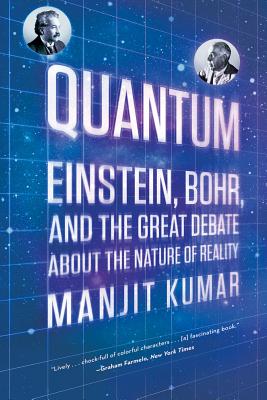 Quantum
Einstein, Bohr, and the Great Debate about the Nature of Reality
Paperback

* Individual store prices may vary.
Other Editions of This Title:
Digital Audiobook (7/13/2010)
Paperback, Spanish (6/1/2012)
Audio Cassette (8/1/2010)
MP3 CD (8/1/2010)
Compact Disc (8/1/2010)
Compact Disc (8/1/2010)
Hardcover (5/24/2010)
Description
"A lucid account of quantum theory (and why you should care) combined with a gripping narrative."—San Francisco Chronicle
Quantum theory is weird. As Niels Bohr said, if you weren't shocked by quantum theory, you didn't really understand it. For most people, quantum theory is synonymous with mysterious, impenetrable science. And in fact for many years it was equally baffling for scientists themselves. In this tour de force of science history, Manjit Kumar gives a dramatic and superbly written account of this fundamental scientific revolution, focusing on the central conflict between Einstein and Bohr over the nature of reality and the soul of science. This revelatory book takes a close look at the golden age of physics, the brilliant young minds at its core—and how an idea ignited the greatest intellectual debate of the twentieth century.
Praise For Quantum: Einstein, Bohr, and the Great Debate about the Nature of Reality…
Lively....Chock-full of colorful characters.
— Graham Farmelo - The New York Times Book Review

[Kumar] leavens the mind-bending with sketches of the remarkable human beings involved in this godlike enterprise.
— Sara Lippincott - Los Angeles Times

Exhilarating. . . . Reading [Quantum] is a bit like lifting the hood of your mind and moving the working parts around; it's challenging and trippy—as only the Dr. Seuss realm of the quantum can be.

— Laura Miller - Salon

A necessary, mesmerizing and meticulous volume.
— Sam Coale - Providence Journal

A super-collider of a book, shaking together an exotic cocktail of free-thinking physicists, tracing their chaotic interactions and seeing what God-particles and black holes fly up out of the maelstrom… Provides probably the most lucid and detailed intellectual history ever written of a body of theory that makes other scientific revolutions look limp-wristed by comparison.
— The Independent [UK]

As a fairly innumerate non-scientist, I am perversely drawn to books about maths and science and usually abandon them with ignorance intact. However, Quantum by Manjit Kumar … is so well written that I now feel I've more or less got particle physics sussed. Quantum transcends genre—it is historical, scientific, biographical, philosophical.

— The Guardian

Kumar is an accomplished writer who knows how to separate the excitement of the chase from the sometimes impenetrable mathematics.
— Financial Times

Kumar brings lucidity and a sense of drama to what is usually considered by lay readers as an esoteric, bubble-chambered subject. He does this without sacrificing the 'science of it' at the altar of readability. The triumphs and the tribulations, the politics and the physics, the humanity and the genius of the protagonists all collide to produce the sort of energy that we usually expect in a Le Carre thriller.
— The Hindustan Times

One of the best guides yet to the central conundrums of modern physics.
— John Banville, author of The Sea
W. W. Norton & Company, 9780393339888, 448pp.
Publication Date: May 9, 2011
About the Author
Manjit Kumar has degrees in physics and philosophy and has written for Slate, The Guardian, the Times Literary Supplement, The Independent, and New Scientist. He lives in London.