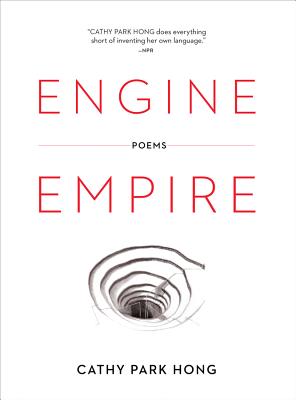 Engine Empire
Poems
Paperback

* Individual store prices may vary.
Description
"A brainy, glinting triptych . . . . Novelistic, meditative, offbeat, and soulful, Cathy Park Hong's poetry is many fathoms deep." —David Mitchell
Engine Empire
is a trilogy of lyric and narrative poems that evoke an array of genres and voices, from Western ballads to sonnets about industrialized China to fragmented lyric poems set in the future. Through three distinct yet interconnected sequences, Cathy Park Hong explores the collective consciousness of fictionalized boomtowns in order to explore the myth of prosperity. The first sequence, called "Ballad of Our Jim," draws inspiration from the Old West and follows a band of outlaw fortune seekers who travel to a California mining town during the 1800s. In the second sequence, "Shangdu, My Artful Boomtown!" a fictional industrialized boomtown draws its inspiration from present-day Shenzhen, China. The third and last section, "The World Cloud," is set in the far future and tracks how individual consciousness breaks up when everything—books, our private memories—becomes immediately accessible data. One of our most startlingly original poets, Hong draws together individual voices at odds with the world, voices that sing their wonder and terror.
W. W. Norton & Company, 9780393346480, 96pp.
Publication Date: August 5, 2013
About the Author
Cathy Park Hong is the author of Translating Mo'um and Dance Dance Revolution and has won a Pushcart Prize and the Barnard Women Poets Prize. She lives in New York and teaches at Sarah Lawrence College.