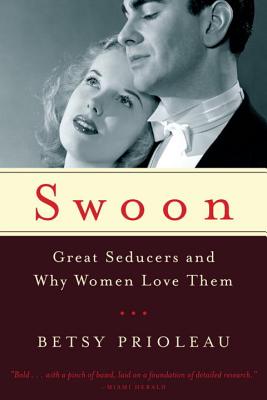 Swoon
Great Seducers and Why Women Love Them
Paperback

* Individual store prices may vary.
Other Editions of This Title:
Hardcover (2/4/2013)
Description
"Lose yourself: Swoon has wicked fun answering that age-old query: What do women want?"—Chicago Tribune
Contrary to popular myth and dogma, the men who consistently beguile women belie the familiar stereotypes: satanic rake, alpha stud, slick player, Mr. Nice, or big-money mogul. As Betsy Prioleau, author of
Seductress
, points out in this surprising, insightful study, legendary ladies' men are a different, complex species altogether, often without looks or money. They fit no known template and possess a cache of powerful erotic secrets.
With wit and erudition, Prioleau cuts through the cultural lore and reveals who these master lovers really are and the arts they practice to enswoon women. What she discovers is revolutionary. Using evidence from science, popular culture, fiction, anthropology, and history, and from interviews with colorful real-world ladykillers, Prioleau finds that great seducers share a constellation of unusual traits.
While these men run the gamut, they radiate joie de vivre, intensity, and sex appeal; above all, they adore women. They listen, praise, amuse, and delight, and they know their way around the bedroom. And they've finessed the hardest part: locking in and revving desire. Women never tire of these fascinators and often, like Casanova's conquests, remain besotted for life.
Finally, Prioleau takes stock of the contemporary culture and asks: where are the Casanovas of today? After a critique of the twenty-first-century sexual malaise—the gulf between the sexes and women's record discontent—she compellingly argues that society needs ladies' men more than ever. Groundbreaking and provocative, Swoon is underpinned with sharp analysis, brilliant research, and served up with seductive verve.
Praise For Swoon: Great Seducers and Why Women Love Them…
I read Swoon in the hope that some of its subjects would even slightly resemble me. I loved the book anyway.

— Andy Borowitz, comedian and New York Times best-selling author

Bold…with a pinch of bawd, laid on a foundation of detailed research…A dazzling parade of lovers who embody what women want, which isn't always what we're told or what one might expect.

Prioleau shows how the intoxicating mix of traits that make women swoon often goes deeper than the obvious looks, status and riches, at times bypassing them altogether.

Sharp, sexy and completely engrossing. . . . Whether Prioleau is writing about Casanova, Bill Clinton or the great French actor Gérard Depardieu, she brings to life those elusive qualities of the world's great seducers.

Starred review. With exceptional vocabulary and bright prose, Prioleau offers a thoroughly researched, irresistible, accessible look at ladies' men.

Betsy Prioleau's vivacious prose grabs the reader, as does her marvelous wit, her insight into sexual desire, and her extraordinary research. It's a fascinating, very sexy read, especially her interviews with great lovers of today who detail why they're so successful in their seduction of women.
— Barbara Taylor Bradford, author of Letter from a Stranger
W. W. Norton & Company, 9780393348484, 352pp.
Publication Date: February 3, 2014
About the Author
Betsy Prioleau is the author of Seductress and Circle of Eros and was a scholar in residence at New York University where she taught cultural history. She lives in New York City.
or
Not Currently Available for Direct Purchase