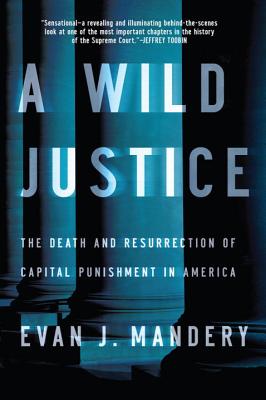 A Wild Justice
The Death and Resurrection of Capital Punishment in America
Paperback

* Individual store prices may vary.
Other Editions of This Title:
Hardcover (8/19/2013)
Description
New York Times Book Review Editor's Choice



Drawing on never-before-published original source detail, the epic story of two of the most consequential, and largely forgotten, moments in Supreme Court history.
For two hundred years, the constitutionality of capital punishment had been axiomatic. But in 1962, Justice Arthur Goldberg and his clerk Alan Dershowitz dared to suggest otherwise, launching an underfunded band of civil rights attorneys on a quixotic crusade. In 1972, in a most unlikely victory, the Supreme Court struck down Georgia's death penalty law in
Furman v. Georgia
. Though the decision had sharply divided the justices, nearly everyone, including the justices themselves, believed
Furman
would mean the end of executions in America.
Instead, states responded with a swift and decisive showing of support for capital punishment. As anxiety about crime rose and public approval of the Supreme Court declined, the stage was set in 1976 for Gregg v. Georgia, in which the Court dramatically reversed direction.
A Wild Justice is an extraordinary behind-the-scenes look at the Court, the justices, and the political complexities of one of the most racially charged and morally vexing issues of our time.
Praise For A Wild Justice: The Death and Resurrection of Capital Punishment in America…
Explaining Furman and its implications can be tricky, but Evan Mandery… has done both with remarkable ease. Mandery knows how to tell a story, and he's done some terrific research.
— David Oshinsky - New York Times Book Review

A Wild Justice is sensational—a revealing and illuminating behind-the-scenes look at one of the most important chapters in the history of the Supreme Court. After reading it, you may never look at the death penalty, or the justices, the same way again.

— Jeffrey Toobin, author of The Oath: The Obama White House and the Supreme Court and The Nine: Inside the Secret World of the Supreme Court.

With a powerful story and an exceptional cast of characters—including Arthur Goldberg, Alan Dershowitz, and Robert Bork at their best—A Wild Justice is a rare achievement. At once entertaining and deeply instructive, it is a piece of legal history that grapples brilliantly with capital punishment, one of the fundamental issues of American justice.

— Sean Wilentz, author of The Rise of American Democracy: Jefferson to Lincoln

Starred review. It takes a gifted writer to craft a thriller out of the efforts to have capital punishment declared unconstitutional, but Mandery pulls it off in this intellectual page-turner.
— Publishers Weekly

Starred review. Outstanding in every respect.
— Kirkus Reviews

The fascinating story of the abolition of the death penalty—and its restoration—had found its ideal narrator in Evan Mandery. At once a page turner and a work of serious scholarship, A Wild Justice puts you inside the justices' deliberations and the advocates' strategizing. Required reading for anyone who cares about the Supreme Court and how it shapes our lives.

— Noah Feldman, author of Scorpions

Mandery has at once written one of the very best books I have ever read not only on the Supreme Court as an institution, but also on the death penalty itself…. One keeps turning the pages in order to find out what happens next.
— Sanford Levinson - History Book Club

He portrays the complex personalities behind the arguments on both sides and a court as sensitive to political tides as moral and philosophical concerns on an issue that continues to remain controversial.
— Booklist

Mandery has written a tour de force examination of how the U.S. Supreme Court from 1963 to 1977 ruled on death penalty issues…this book is revelatory. Unlike Bob Woodward's The Brethren and Jeffrey Toobin's The Nine, it shows how all the court players (politicians, clerks, litigants) had a part in its capital punishment decisions…. As much a sociological study as a discussion of the law, this volume is well written and illuminating.

— Harry Charles - Library Journal, starred review

If someone described a book about the Supreme Court's decisions to strike down and then reinstate the death penalty as thrilling, would you believe her? You should; that's exactly what A Wild Justice is. Reading it, you get swept up in the details of the court cases that determined capital punishment's upheaval and rapid resurrection over the course of two decades. This is thanks to Mandery's skill for whittling down complex legal situations to punchy play-by-plays.

— Jen Vafidis - The Daily Beast

Mandery has managed to turn textbook-style legal history into cinematic scenes with memorable characters.
— Maurice Chammah - Austin-American Statesman

Important…. Remarkable.
— Andrew Cohen - The Atlantic

Litigating the death penalty is like riding a bull. You can't tame it—so just hang on tight and prepare to be thrown.
— David Dagan - Washington Monthly
W. W. Norton & Company, 9780393348965, 544pp.
Publication Date: August 4, 2014
About the Author
Evan J. Mandery is a professor at John Jay College of Criminal Justice in New York City. A former capital defense attorney, he is the author of five previous books. He lives in Manhasset, New York.
or
Not Currently Available for Direct Purchase