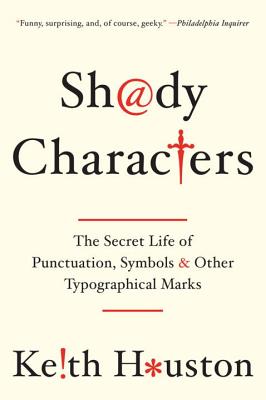 Shady Characters
The Secret Life of Punctuation, Symbols, and Other Typographical Marks
Paperback

* Individual store prices may vary.
Other Editions of This Title:
Hardcover (9/24/2013)
Description
"An absolutely fascinating blend of history, design, sociology, and cultural poetics—highly recommended."—Maria Popova, Brain Pickings
A charming and indispensable tour of two thousand years of the written word,
Shady Characters
weaves a fascinating trail across the parallel histories of language and typography.
Whether investigating the asterisk (*) and dagger (†)—which alternately illuminated and skewered heretical verses of the early Bible—or the at sign (@), which languished in obscurity for centuries until rescued by the Internet, Keith Houston draws on myriad sources to chart the life and times of these enigmatic squiggles, both exotic (¶) and everyday (&).
From the Library of Alexandria to the halls of Bell Labs, figures as diverse as Charlemagne, Vladimir Nabokov, and George W. Bush cross paths with marks as obscure as the interrobang (?) and as divisive as the dash (—). Ancient Roman graffiti, Venetian trading shorthand, Cold War double agents, and Madison Avenue round out an ever more diverse set of episodes, characters, and artifacts.
Richly illustrated, ranging across time, typographies, and countries, Shady Characters will delight and entertain all who cherish the unpredictable and surprising in the writing life.
Praise For Shady Characters: The Secret Life of Punctuation, Symbols, and Other Typographical Marks…
If Eats, Shoots & Leaves whetted your appetite on the subject of punctuation, then you have a treat in store. Shady Characters is an authoritative, witty, and fascinating tour of the history and rationale behind such lesser known marks as the ampersand, manicule, the pilcrow, and the interrobang. Keith Houston also explains the octothorpe—otherwise known as the hashtag—and and my final comment on his book is #awesome.

— Ben Yagoda, author of How to Not Write Bad

Make no mistake: this is a book of secrets. With zeal and rigor, Keith Houston cracks open the &, the #, the † and more—all the little matryoshka dolls of meaning that make writing work. Inside, we meet novelists, publishers, scholars and scribes; we range from ancient Greeks to hashtagged tweets; and we see the weird and wonderful foundations of the most successful technology of all time.
— Robin Sloan, author of Mr. Penumbra's 24-Hour Bookstore

Funny, surprising, and, of course, geeky.
— Michael D. Schaffer and John Timpane - Philadelphia Inquirer

Might make you look at books… in an entirely new way.
— Andrew Robinson - Nature

Houston…is a tireless researcher and an amiable teacher.
— Jan Gardner - Boston Globe

A pleasurable contribution to type history, particularly for readers who haven't considered the ampersand in any detail.
— Carl W. Scarbrough - New Criterion

Fascinating.
— Rob Kyff - The Courant
W. W. Norton & Company, 9780393349726, 352pp.
Publication Date: October 20, 2014
About the Author
Keith Houston is the author of Shady Characters and the founder of shadycharacters.co.uk. He lives in London.