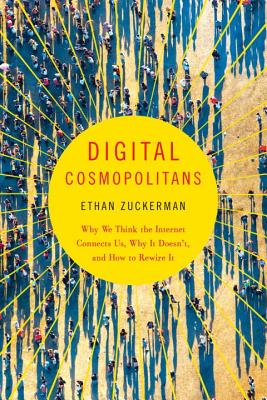 Digital Cosmopolitans (Paperback)
Why We Think the Internet Connects Us, Why It Doesn't, and How to Rewire It
W. W. Norton & Company, 9780393350326, 320pp.
Publication Date: November 10, 2014
Other Editions of This Title:
Hardcover (6/17/2013)
* Individual store prices may vary.
Description
"One of our most important books on globalization." —Steve O'Keefe, New York Journal of Books
The enormous scope of the Internet can lead us to assume that as the online community grows, our world grows smaller and more cosmopolitan. In Digital Cosmopolitans, Ethan Zuckerman explains why the technological ability to communicate with someone does not guarantee human interaction or the healthy exchange of information and ideas. Combining the latest psychological and sociological research with current trends both online and off, Digital Cosmopolitans highlights the challenges we face and the headway being made in creating a world that is truly connected.
About the Author
Ethan Zuckerman is associate professor of the practice of civic media at the MIT Media Lab, and directs MIT's Center for Civic Media. He is the author of Digital Cosmopolitans and lives in Lanesboro, Massachusetts.
Praise For Digital Cosmopolitans: Why We Think the Internet Connects Us, Why It Doesn't, and How to Rewire It…
Zuckerman takes us on a journey that explores how even
in our hyper-modern, overconnected, crazy-fast world, we
need to take extra steps to make sure we're exploring people,
places, and stories around us.
— Cyrus Farivar

[A] patient, thoughtful rebuttal to the widespread embrace of the Internet as a facilitator of global understanding.
— Astra Taylor

Starred review. Fascinating and powerful. . . . Zuckerman's imaginative and
inventive reflections offer a resourceful guide to living a connected
life with intention and insight.

Ethan Zuckerman is a true cosmopolitan, a citizen of the universe. . . . He describes how our new communications tools allow us to take part in a truly global conversation and why almost none of us actually take advantage of that opportunity.
— Clay Shirky, author of Cognitive Surplus and Here Comes Everybody

A rich tapestry of stories, data, and theories . . . challenges many of our core assumptions about globalization and connectedness and how the Internet affects us. It is a book well worth reading.

— Yochai Benkler, author of The Penguin and the Leviathan and The Wealth of Networks

No one is in a better position than MIT and Harvard's Ethan Zuckerman to confront the Internet's failure to connect us across cultures. . . .  An essential and urgent read.
— David Weinberger, author of Too Big to Know

Ethan Zuckerman is the real deal, a thinker and activist brilliantly connected to what's really happening on the Internet on a genuinely global basis.
— Craig Newmark, founder, craigslist and craigconnects