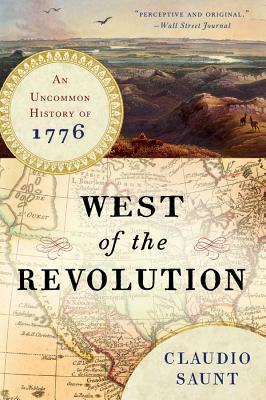 West of the Revolution
An Uncommon History of 1776
Paperback

* Individual store prices may vary.
Other Editions of This Title:
Hardcover (6/16/2014)
Description
This panoramic account of 1776 chronicles the other revolutions unfolding that year across North America, far beyond the British colonies.
In this unique history of 1776, Claudio Saunt looks beyond the familiar story of the thirteen colonies to explore the many other revolutions roiling the turbulent American continent. In that fateful year, the Spanish landed in San Francisco, the Russians pushed into Alaska to hunt valuable sea otters, and the Sioux discovered the Black Hills. Hailed by critics for challenging our conventional view of the birth of America, West of the Revolution "[coaxes] our vision away from the Atlantic seaboard" and "exposes a continent seething with peoples and purposes beyond Minutemen and Redcoats" (Wall Street Journal).
Praise For West of the Revolution: An Uncommon History of 1776…
Perceptive and original.
— Gerard Helferich - Wall Street Journal

[B]old and inclusive…a significant contribution to our understanding of this volatile and formative period in American history.
— Doug Kiel - Chicago Tribune

[A]s compelling and awful as a ghost story…[A] masterful portrait.
— Kate Tuttle - Boston Globe

A history more terrible than wondrous, a necessary counternarrative to our enlightened Revolution…Saunt stretches the scope of his history to provide context and background…He has created a sweeping narrative of noncolonial America in 1776. But he is at his most colorful when he finds individual stories, such as that of the Frenchman floating down the Arkansas River with 'one severed head and the corpses of two of his companions.'
— Carolyn Kellogg - Los Angeles Times

[A] panoramic view of North America…rife with fascinating facts.
— Jacob E. Osterhout - Newsweek

Brilliant.
— Michael Upchurch - Seattle Times

An engaging, original, and thought-provoking book on what was happening on the American continent in 1776 outside of our traditional line of sight. The result is a fascinating new look at the most familiar of years.
— Jon Meacham, author of The Soul of America

A dramatic and compelling new take on the North America of 1776. With careful research and in evocative writing, Saunt brilliantly recovers the cultural diversity and many possibilities of a continent dominated by native peoples and coveted by several empires.
— Alan Taylor, author of The Internal Enemy
W. W. Norton & Company, 9780393351156, 288pp.
Publication Date: July 6, 2015
About the Author
Claudio Saunt is the Richard B. Russell Professor in American History at the University of Georgia. He is the author of award-winning books, including A New Order of Things; Black, White, and Indian; and West of the Revolution. He lives in Athens, Georgia.