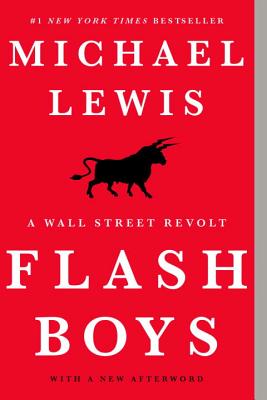 Flash Boys (Paperback)
A Wall Street Revolt
W. W. Norton & Company, 9780393351590, 320pp.
Publication Date: March 23, 2015
Other Editions of This Title:
Hardcover, Large Print (9/10/2014)
* Individual store prices may vary.
Description
#1 New York Times Bestseller — With a new Afterword
"Guaranteed to make blood boil." —Janet Maslin, New York Times
In Michael Lewis's game-changing bestseller, a small group of Wall Street iconoclasts realize that the U.S. stock market has been rigged for the benefit of insiders. They band together—some of them walking away from seven-figure salaries—to investigate, expose, and reform the insidious new ways that Wall Street generates profits. If you have any contact with the market, even a retirement account, this story is happening to you.
About the Author
Michael Lewis is the best-selling author of Liar's Poker, Moneyball, The Blind Side, The Big Short, and The Undoing Project. He lives in Berkeley, California, with his wife and three children.
Praise For Flash Boys: A Wall Street Revolt…
Lewis, as always, is exceedingly good at describing the complexities and absurdities of the subculture he portrays here… A deeply entertaining book, and one that illuminates how much our world has changed in less than a decade.
— Hector Tobar

Important to public debate about Wall Street… in exposing what one of his central characters calls the 'Pandora's box of ridiculousness' that financial exchanges have become.
— Philip Delves Broughton

Reads like a thriller . . . Lewis is the kind of writer who creates his own weather system.
— John Lanchester

Remarkable… Michael Lewis has a spellbinding talent for finding emotional dramas in complex, highly technical subjects.

Michael Lewis does it again . . . fascinating.
— Steven Pearlstein

A beautiful narrative, so well-written. You've got to get this.
— Jon Stewart

If you read one business book this year, make it Flash Boys.

— David Sirota

Michael Lewis is a genius, and his book will give high-frequency trading a much-needed
turn under the microscope.
— Kevin Roose

Michael Lewis knows how to tell a story.

A fast-paced tale backed by gutsy reporting.
— Tina Jordan

Who knew high-frequency trading was such a sexy subject?

Score one for the humans! Critics of high speed, computer-driven trading have a new champion.

Flash Boys richly deserves to be the first chapter in a new discussion of market rules and abuses… Lewis raises troubling and necessary questions.


Michael Lewis is one of the premier chroniclers of our age.

When it comes to narrative skill, a reporter's curiosity and an uncanny instinct for the pulse of the zeitgeist, Lewis is a triple threat.
— James B. Stewart

[Lewis] is a top-flight storyteller.
— Lev Grossman

A tour de force that will grab and hold your attention like the best of thrillers.
— Jon Talton

Lewis writes about the resilience of underdogs, even in the face of seemingly overwhelming odds. He's doing essential work, and anything that embarrasses fat cats and encourages reform is a flash in the right direction.
— Julie Hinds

Lewis simply tells the truth.
— Will Deener

Michael Lewis has another hit on his hands.
— Zachary Warmbrodt and Dave Clarke

[Lewis's] ability to find compelling characters and tell a great story through their eyes is unparalleled. He can untangle complex subjects like few others. His prose sparkles.
— Joe Nocera

As always, Lewis simplifies the complex—and makes it fascinating.

Recommended… Entertaining.

Entirely engaging… Illuminates a part of Wall Street that has generally done business in the shadows.