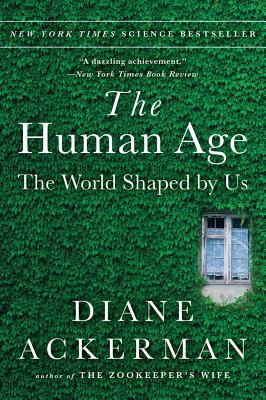 The Human Age
The World Shaped By Us
Paperback

* Individual store prices may vary.
Other Editions of This Title:
Digital Audiobook (9/9/2014)
Hardcover (9/10/2014)
Description
Winner of the National Outdoor Book Award and the PEN New England Henry David Thoreau Prize.



A dazzling, inspiring tour through the ways that humans are working with nature to try to save the planet.
With her celebrated blend of scientific insight, clarity, and curiosity, Diane Ackerman explores our human capacity both for destruction and for invention as we shape the future of the planet Earth. Ackerman takes us to the mind-expanding frontiers of science, exploring the fact that the "natural" and the "human" now inescapably depend on one another, drawing from "fields as diverse as evolutionary robotics…nanotechnology, 3-D printing and biomimicry" (New York Times Book Review), with probing intelligence, a clear eye, and an ever-hopeful heart.
Praise For The Human Age: The World Shaped By Us…
Diane Ackerman's vivid writing, inexhaustible stock of insights, and unquenchable optimism have established her as a national treasure, and as one of our great authors. If you've read any of her previous books, you already know why you'll love this latest one. If you haven't read her previous books, you're now about to become addicted to Diane Ackerman.
— Jared Diamond, professor of geography at UCLA and Pulitzer Prize–winning author of Guns, Germs, and Steel and Collapse

Splendidly prismatic…[N]early every page holds surprises.
— Andrew C. Revkin - New York Times

Ackerman is a gorgeous writer and perceptive observer.
— Kate Tuttle - Boston Globe

Ferociously inspiring.
— Alan Moores - Seattle Times

Amazingly illuminating…Ackerman reaches into the past to understand and explain our future…with her typically intoxicating blend of scholarship, wisdom, grace, and humor.
— Siddhartha Mukherjee, Pulitzer Prize-winning author of The Emperor of All Maladies

Ackerman has established herself over the last quarter of a century as one of our most adventurous, charismatic and engrossing public science writers…[S]he has demonstrated a rare versatility, a contagious curiosity and a gift for painting quick, memorable tableaus drawn from research across a panoply of disciplines…The Human Age is a dazzling achievement: immensely readable, lively, polymathic, audacious.

— Rob Nixon - New York Times Book Review

Fascinating…Ackerman offers a cross-cultural tour of human ingenuity…Her words invite us to feel the hope she feels.
— Barbara J. King - Washington Post

What a hopeful book! We can feel many things at the start of the Anthropocene, this new geological age that we have brought on—or brought down on ourselves. Diane Ackerman, for one, is optimistic, even cheerful, singing the praises of those individuals among us who are helping to find the way forward. And she writes with brilliance, zest, and high style. We need to hear this voice of human affirmation. It's important. It matters. I read The Human Age and thought, Yes! This is the way to look ahead.

— Jonathan Weiner, Pulitzer Prize-winning author of The Beak of the Finch and Long for this World

With graceful intelligence, Ackerman calls for an enlightened guardianship for the planet. I cannot imagine a richer text of image and insight.
— Terry Tempest Williams, author of When Women Were Birds

A humdinger of a book…Ackerman is optimistic, even exhilarated, and frequently giddy about the future of humanity.
— Jon Christensen - San Francisco Chronicle

Part immersion memoir and part journalism… The Human Age is also many parts poetry.

— Beth Kephart - Chicago Tribune

Exquisite and startling.
— Tim Flannery - Harper's Magazine

[W]ith a poet's soul and a journalist's precision…[Ackerman's] examinations of overpopulation, the energy crisis, and our dependence on technology make The Human Age both foreboding and inspirational.

— Kyle Anderson - Entertainment Weekly
W. W. Norton & Company, 9780393351644, 352pp.
Publication Date: September 14, 2015
About the Author
Diane Ackerman has been the finalist for the Pulitzer Prize for Nonfiction in addition to many other awards and recognitions for her work, which include the best-selling The Zookeeper's Wife and A Natural History of the Senses. She lives in Ithaca, New York.