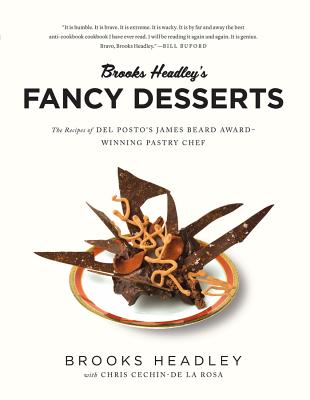 Brooks Headley's Fancy Desserts
The Recipes of Del Posto's James Beard Award-Winning Pastry Chef
Paperback

* Individual store prices may vary.
Other Editions of This Title:
Hardcover (10/1/2014)
Description
"The most entertaining cookbook in memory. . . . A game changer."—Anthony Bourdain
While other chefs paid dues on restaurant lines and at cooking schools, Brooks Headley was in the back of a tour van as a drummer in much-loved punk bands that never made a dime. Now executive pastry chef at New York's Del Posto restaurant, Headley creates unorthodox recipes that echo his unconventional background: fruit is king, vegetables are championed, acidity is key, and simplicity is the goal.
With 97 recipes and more than 100 photographs, Brooks Headley's Fancy Desserts has six chapters: "Fruit," "Vegetables," "Grains and Flours," "Chocolate," "Seeds and Nuts," and "Dairy." Recipes range from verjus melon candy to tofu chocolate creme brulée, fruit sorbet to eggplant and chocolate, showcasing Headley's unique perspective on ingredients and methodology. Guest contributors include philosopher-musician Ian Svenonius, essayist Sloane Crosley, and award-winning chefs Gabrielle Hamilton and David Kinch. Brooks Headley's Fancy Desserts is an essential, inventive addition to the shelf of both home cooks and professional chefs.
Praise For Brooks Headley's Fancy Desserts: The Recipes of Del Posto's James Beard Award-Winning Pastry Chef…
A cupcake primer this is not. The punk rocker
turned pastry chef at NYC's Del Posto has delivered a
hilarious page-turner.
— Bon Appétit

This is one you'll want to read cover-to-cover.
— Eater

It is humble. It is brave. It is extreme. It is wacky. It
is by far and away the best anti-cookbook cookbook
I have ever read. I will be reading it again and again.
It is genius. Bravo, Brooks Headley!
— Bill Buford - Food52

When was the last time a cake recipe made you weep with laughter? Exactly. Brooks Headley—punk dude, vegetarian sympathizer, stealth genius, hero to all in the New York pastry world— has created something entirely new. It's a cookable memoir about his life in music and food (i.e., lots of time in basements), but not the kind they'll make a cute movie out of. And the art direction by Jason Fulford and Tamara Shopsin (of Eat Me: The Food & Philosophy of Kenny Shopsin notoriety) take the deadpan brilliance to another level.

— Christine Muhlke, executive editor, Bon Appétit

Fancy Desserts is not what you expect of a cookbook. Then again, Brooks is not what you expect of a pastry chef. His dessert is the stuff of legend. It is counterintuitive but beautiful; confounding but delicious. Relinquish control: read this and you will almost instantly understand. Fair warning: Paul Reubens is pictured in this cookbook.

— Mario Batali

A visceral and attitudinal and gustatory joy-ride, an exhilarating few laps around a 4 star kitchen in a beat up obscure punk rocker's tour van. And Brooks Headley is as devoted to the sweet joy as he is to the hard ride of excellence in the pastry kitchen.
— Gabrielle Hamilton

One part unconventional memoir to two parts nontraditional cookbook.
— Hugh Merwin - New York Magazine
W. W. Norton & Company, 9780393352382, 288pp.
Publication Date: March 28, 2016
About the Author
Brooks Headley, chef-owner of Superiority Burger, was named best pastry chef in the country in 2013 by the James Beard Foundation. His previous cookbook, Brooks Headley's Fancy Desserts, won the Piglet Tournament of Cookbooks from Food52. He lives in New York City.
or
Not Currently Available for Direct Purchase