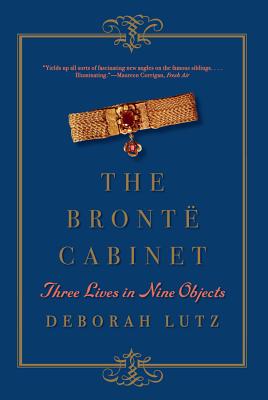 The Brontë Cabinet (Paperback)
Three Lives in Nine Objects
W. W. Norton & Company, 9780393352702, 352pp.
Publication Date: April 4, 2016
Other Editions of This Title:
Hardcover (5/11/2015)
MP3 CD (1/19/2016)
* Individual store prices may vary.
Description
"Yields up all sorts of fascinating new angles on the famous siblings…Illuminating." —Maureen Corrigan, NPR's Fresh Air
In this unique and lovingly detailed biography, Victorian literature scholar Deborah Lutz illuminates the fascinating lives of the Brontës through the things they wore, stitched, and inscribed. Lutz immerses readers in a nuanced re-creation of the sisters' days while moving us chronologically through their lives. From the miniature books they made as children to the walking sticks they carried on hikes on the moors, each possession opens a window onto the sisters' world, their beloved fiction, and the Victorian era.
About the Author
Deborah Lutz's books include Pleasure Bound: Victorian Sex Rebels and the New Eroticism and Relics of Death in Victorian Literature and Culture. The Thruston B. Morton Professor of English at the University of Louisville, she lives in Louisville, Kentucky, and Brooklyn, New York.
Praise For The Brontë Cabinet: Three Lives in Nine Objects…
All lovers of the Brontës should read this book.
— Lucasta Miller

With deft care, Lutz weaves her authors back into their daily contexts, and from there, the stories they crafted speak even more urgently across time.
— Tess Taylor

[Virginia] Woolf probably would have liked The Brontë Cabinet…Lutz's insights…prove fascinating.

— Danny Heitman

The Brontë Cabinet makes a powerful case for the value of the material world, personally and culturally, then and now.

— Rebecca Steinitz

Brontë aficionados will enjoy the deft interweaving of artifact, biography and literature, but the greatest pleasure is the expanding chain of associations Lutz creates in each chapter…An engaging read for fans of the Brontë sisters, of course, but also anyone interested in material culture, the Victorian era and the history of everyday lives—especially women's lives.
— Patricia Hagen

[F]resh and enlightening…This book is an exceptionally intimate study of the three sisters, through it we look into the most private corners of the parsonage…Faultlessly researched and evocatively written.
— Rachel Trethewey

The Brontë Cabinet does not fail to deliver, offering vivid interpretations of the lives and the works of these strange and fascinating sisters…As strange and mesmerizing as the sisters themselves.

— Paula Byrne

This is a fine book, rich, immersive and illuminating, glowing with the life of the Brontës and their wild genius.
— Shahidha Bari

A passionate, intelligent and stylish book. Deborah Lutz works a kind of magic around the Brontës' possessions and evokes their lives, works and legacies more vividly than ever. A brilliantly original study that all Brontë lovers will want to read.
— Claire Harman, author of Charlotte Brontë: A Fiery Heart

The most mundane object carries a lifetime of experience within it. Daily life, and the objects of daily living, can speak to us, if we are willing to listen. Deborah Lutz has listened to what the Brontës' possessions tell us, and produced an original, enlightening and acute reading of these original, enlightening and acute women's writings.
— Judith Flanders, author of The Victorian City: Everyday Life in Dickens' London