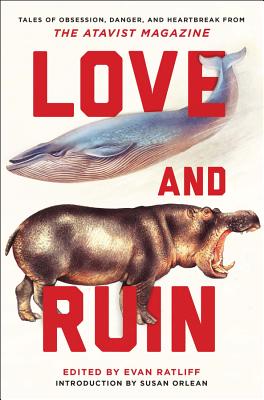 Love and Ruin
Tales of Obsession, Danger, and Heartbreak from The Atavist Magazine
Paperback

* Individual store prices may vary.
Description
Extraordinary stories of crime, passion, and adventure from The Atavist magazine, the trailblazing leader in longform narrative writing.
Since its inception, The Atavist Magazine has been a pioneer of today's longform journalism renaissance. Now, Love and Ruin brings ten of the magazine's most astonishing stories into print for the first time. These writers have taken reporting to the extremes of nature, turned inward to explore what makes us human, and burrowed deep into archives in search of mysterious figures and events more surprising than anything in contemporary fiction. What unifies these nonfiction masterpieces is the keen eye with which their writers capture the details of human experience, and their knack for hooking us into a story and never letting go.
With stories by:

James Verini • Leslie Jamison • Vanessa Veselka • Jon Mooallem • Cris Beam • Brooke Jarvis • David Dobbs • Adam Higginbotham • Evan Ratliff • Matthew Shaer
Praise For Love and Ruin: Tales of Obsession, Danger, and Heartbreak from The Atavist Magazine…
The images awaiting you in the stories here, thanks to The Atavist, are the kind that hurl you out of your reading chair and into another realm.

— Susan Orlean, from the introduction

A mesmerizing collection, as lush and moving and full of astonishments as any I've read. It reflects the now-vital place of The Atavist in our literary firmament, a digital enterprise populated by some of the very best writers today, obsessed with the written word and new ways of telling stories. This is longform at its best, nonfiction mini-novellas that grip and cajole; rollick and surprise; illuminate and carry you on a journey to where truth and emotion are supersaturated, to where the gems glow in plain sight, there for the taking.

— Michael Paterniti

Love and Ruin is tightly packed with the kind of stories that stay in your mind for a long time—stories that come alive in the kind of hard, clean sentences I remembering marveling at as a teenager devouring the stories of Truman Capote and Lillian Ross for the first time.

— Nancy Jo Sales

The Atavist's book Love and Ruin has some of the best nonfiction longform I've ever read. I don't know how Evan Ratliff and co. do it, but they attract the best writers with the most insane stories. Love and Ruinis just them flexing, and I gotta say, it's pretty nice to look at.

— Wes Judd - Outside

[E]clectic, never-boring.
— Kirkus

[Q]uality long-form journalism is alive and kicking... This vital collection is sure to win the Atavist many new devotees.
— Publishers Weekly
W. W. Norton & Company, 9780393352719, 432pp.
Publication Date: July 26, 2016
About the Author
Evan Ratliff is the editor of The Atavist magazine. His writing has appeared in Wired, where he is a contributing editor; The New Yorker; National Geographic; and other publications. He is also the story editor of Pop-Up Magazine, a live event.
or
Not Currently Available for Direct Purchase